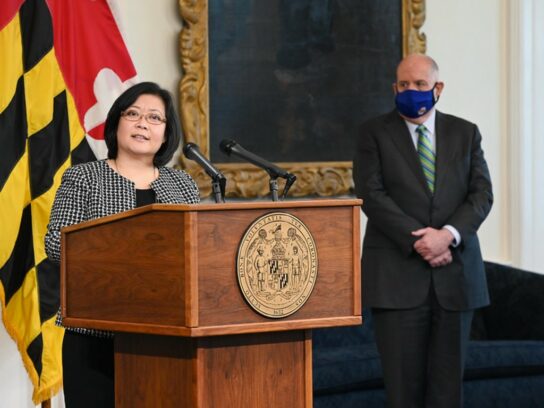 State officials expect to have access to a COVID-19 vaccine as early as next week.
"If approved, which we anticipate it will be, we believe that the initial doses of the Pfizer vaccine will become available for Maryland as early as the week of Dec. 14, or next week," said Acting Deputy Secretary for Public Health Services Dr. Jinlene Chan at a press conference with Gov. Larry Hogan on Tuesday. On Dec. 10, an FDA committee will make a recommendation for approval or disapproval of Pfizer's vaccine candidate. The pharmaceutical company applied for emergency use authorization (EUA) in November, Chan said.
The state expects Moderna's vaccine candidate to become available as early as the week of Dec. 21, following its FDA committee review next week. Maryland will get about 155,000 initial doses of the vaccine total from Pfizer and Moderna; about 50,000 and 104,000 respectively, Chan said. These will go to hospital-based healthcare workers and nursing home staff and residents. Hogan said the state could receive up to 300,000 doses by the end of the year. As more become available, other healthcare workers, long-term care facilities residents and staff and first responders will be included in the first priority group to get the vaccine.
Hogan says vaccine news is welcome, but cautions that the state's initial allocation will only be 155k doses, possibly up to 300k before the end of the year. @mymcmedia

— Maryam Shahzad (@maryam_mcm) December 8, 2020
The vaccine priority phases detailed during the press conference are:
Group 1A: Healthcare workers, long-term care facilities residents and staff, first responders
Group 1B: People at significantly higher risk of severe COVID-19 illness (ex: chronic illness)
Group 2: People in critical, essential infrastructure roles (education, transit, utility), people at moderately higher risk of severe COVID-19 illness
Group 3: General population
Hogan said he plans to take the vaccine in public with Lt. Gov. Boyd Rutherford when it becomes available to them. The state will also lead an "aggressive" public health campaign urging residents to get vaccinated, he said.
Right now, it's unknown how long immunity will last after receiving a COVID-19 vaccine, Chan said. She noted that some suggest it could become a yearly vaccination, as with the flu.
Hogan announced that all healthcare professionals will be allowed to administer coronavirus vaccines with proper training and under supervision. The state plans to roll out a mechanism that residents can use to pre-register and sign up for a vaccine appointment.
Gov. Larry Hogan is live now.

He announces that all healthcare professionals will be allowed to administer COVID-19 vaccines, with training and under supervision. @mymcmedia

— Maryam Shahzad (@maryam_mcm) December 8, 2020