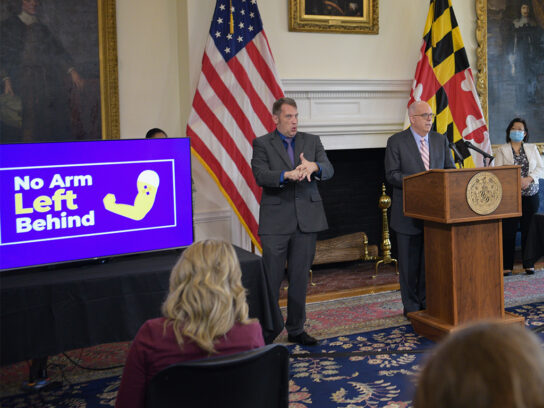 Gov. Larry Hogan announced on Wednesday that the state is launching an initiative called "No Arm Left Behind" which aims to ensure that every Marylander who wants a COVID-19 can get one.
The initiative is an "all-hands-on-deck" effort to help seniors, college students, and employers across the state have access to the vaccine as soon as possible.
Hogan also announced that the state is expanding its no appointment, walkup vaccination lines, and its mobile vaccine clinics. It is also expanding its vaccine support call center and launching a new public service announcement about the safety of vaccines which features physicians from across the state.
Those of you who have not yet been vaccinated, please go get a vaccine as quickly as you can. Do it for yourself, do it for your family, do it for your friends, and do it so that all of us can put this global pandemic behind us.

— Governor Larry Hogan (@GovLarryHogan) April 21, 2021
Getting Seniors, College Students, Workers Vaccinated
As part of the  "No Arm Left Behind" initiative, the state will target zip codes to help each senior receive the vaccine. Hogan said vaccinations have been either completed or scheduled at 98% of all senior housing facilities in the state.
To reach more seniors, the state will directly contact more than 70,000 Medicaid recipients over the age of 50 and help them schedule an appointment to receive the vaccine if they haven't already done so. Hogan said he signed an executive order which would allow senior centers to reopen "as early as April 30."
We're launching a series of "No Arm Left Behind" initiatives to target seniors, college and university students, and the state's largest employers in an all-hands-on-deck effort to make sure that every Marylander who wants a vaccine can get one.

Details: https://t.co/0stmpvpFkw

— Governor Larry Hogan (@GovLarryHogan) April 21, 2021
The state is also partnering with the Maryland Higher Education Commission to provide direct outreach to students on college campuses. Mass vaccination sites will set aside appointments specifically for higher education students. There will also be "university day" vaccine appointment slots available at the Greenbelt FEMA site for multiple schools.
The state is also partnering with two HBCUs to provide vaccination clinics at Morgan State University and Bowie State University.
Hogan announced that the initiative creates a partnership between the state and major employers like Southwest Airlines, Exelon, Comcast, and Amazon to create vaccination clinics for essential workers.
"We truly are close to that light at the end of the tunnel. Those of you who have not yet been vaccinated, please go get a vaccine as quickly as you can. Do it for yourself, do it for your family, do it for your friends, and do it so that all of us can put this global pandemic behind us."
Play-By-Play of Hogan's 'No Arm Left Behind' Presser
Here's a recap by tweet of Wednesday's press conference:
Hogan says that Maryland has surpassed 4 million shots administered. @mymcmedia

— Deirdre Byrne (@DeirdreByrneMCM) April 21, 2021
Gov. Hogan says that the goal is to provide a vaccine to every Marylander who wants one. The state is launching a No Arm Left Behind campaign to support this effort. @mymcmedia

— Deirdre Byrne (@DeirdreByrneMCM) April 21, 2021
Hogan signed an executive order to reopen seniors in the county. @mymcmedia

— Deirdre Byrne (@DeirdreByrneMCM) April 21, 2021
Hogan says the No Arm Left Behind initiative will work with colleges, employers, senior centers, etc to encourage Marylanders to get the vaccine. The initiative will also help improve the state's @GoVaxMD call center.@mymcmedia

— Deirdre Byrne (@DeirdreByrneMCM) April 21, 2021
Brigadier General Janeen Birckhead who leads the state's equity task force is now speaking. She notes that Maryland is 5th in the nation in vaccinating Black Americans, 8th for Asian Americans, and 13th for Hispanic/Latinx Americans. @mymcmedia

— Deirdre Byrne (@DeirdreByrneMCM) April 21, 2021
Birckhead announces the state is partnering with two HBCU's to distribute the vaccines — @MorganStateU and @BowieState.@mymcmedia

— Deirdre Byrne (@DeirdreByrneMCM) April 21, 2021
Hogan said because there are no so many options to receive the vaccine now — doctor's offices, pharmacies, mass vax site, etc. — the state is getting creative with getting shots into arms. @mymcmedia

— Deirdre Byrne (@DeirdreByrneMCM) April 21, 2021
"We're going to do everything we can to make it easy for somebody [to get the vaccine]," @GovLarryHogan said.@mymcmedia

— Deirdre Byrne (@DeirdreByrneMCM) April 21, 2021
Hogan said on his governors' call earlier this week, the White House said J&J "may" be back on the market by Friday. @mymcmedia

— Deirdre Byrne (@DeirdreByrneMCM) April 21, 2021
.@GovLarryHogan said he was pleased with the guilty decision in the Derek Chauvin case. @mymcmedia

— Deirdre Byrne (@DeirdreByrneMCM) April 21, 2021
Hogan is asked about vaccine passports: "I know the debate on both sides of the issue … it's not something we're focused on at the state level, I think it's something they're going to be trying to address at the federal level."@mymcmedia

— Deirdre Byrne (@DeirdreByrneMCM) April 21, 2021