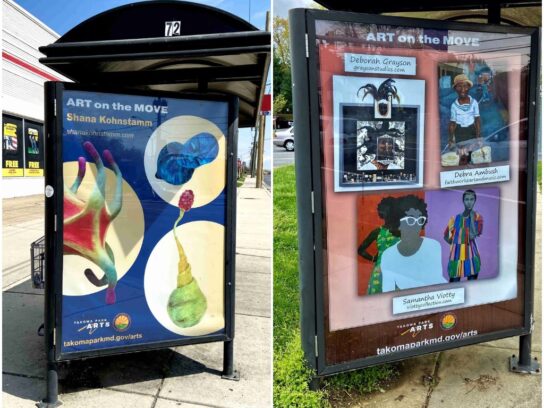 Takoma Park's Arts and Humanities Division has created a project titled "Art on the Move" to showcase regional artists through a series of posters displayed in bus shelters.
The posters, designed by Charlotte Mann Lee, feature 14 different artists through seven posters, located at 14 bus shelters throughout the area. Four of the posters include work by original artists, while the remaining posters feature groups of artists in upcoming exhibitions of figurative and abstract art.
Because many of the city's bimonthly art exhibitions were delayed following the Community Center's closure last year, the city wanted to find an alternative method of sharing art with local residents. Through using bus shelters, artists can take the art out of a typical museum setting and showcase it directly where people live and work.
"Riding the bus is a great form of public transportation, and local bus shelters are small art galleries now that can brighten people's day with a fun and healthy dose of art," Arts and Humanities Division Coordinator Brendan Smith said in a press release.
Each of the artists' names and websites are featured on the posters to support their businesses as well.
"A bus shelter with artwork transforms a place of waiting and impatience to provide a few moments of escapism," artist Samantha Viotty said. "Art often feels so removed from the spaces that we occupy. The bus shelters ground the medium in a different way."
The posters will be on display for three months. A map of bus shelters with posters on display and list of featured artists can be found online.