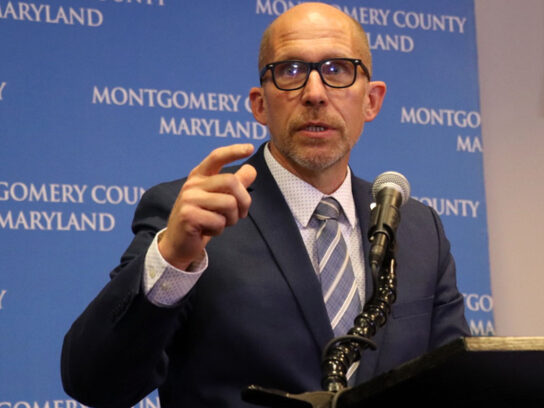 The newly-formed Maryland United for COVID Relief Now Coalition is urging Gov. Larry Hogan to release $1 billion of state funds to help Marylanders who are struggling during the pandemic.
"There is unmet need as far as the eye can see," said Montgomery County Council President Tom Hucker during the coalition's virtual news conference Wednesday.
According to Hucker, one in four business owners in Maryland fear going out of business within six months and 240,000 families are facing eviction. In Montgomery County, 100,000 residents are facing food insecurity and homelessness is experiencing an uptick, he said.
Politicians and activists from across the state spoke of the urgent need for Hogan to release money from the state's rainy day funds, with many of them stating that it is pouring, not just raining, for many of Marylanders.
According to State Comptroller Peter Franchot, state residents who earn between $20,000 and $35,000 annually "are just being annihilated fiscally." They make up 40% of the workforce, he said, adding, "We are talking about hundreds of thousands of people."
According to a release from the coalition, "Currently, the State of Maryland has more than $1.5 billion in its reserves; $586 million from its FY 2020 General Fund Balance and more than $928 million in its Rainy Day Fund – a dedicated fund that state lawmakers and governors have diligently protected to help Maryland navigate economic recessions."
One billion dollars from the state will help "the people who have fallen through the cracks," Franchot said.
Jen Vanli, of Gaithersburg, is one of the people Franchot spoke about. Her family was evicted and currently lives in a hotel in Rockville. "My family and I have lived the past few months in distress. There have been times when we had to choose between paying for another night to stay at the hotel over choosing something nutritious for dinner."
The politicians who spoke said they had been counting on the new federal relief bill to include money for county and local governments. It currently does not.
The State of Maryland stands to receive billions, according to U.S. Sen. Ben Cardin. The proposed relief bill sets aside more than $1 billion dollars for education, about $830 million for Metro, about $450 million for the vaccine distribution and testing and tracing efforts and another $130 million for childcare support.
It also includes funding to extend unemployment benefits and help renters, Cardin said.
There were more than a dozen speakers on the virtual conference, including a firefighter who asked for money to cover those not able to work during COVID-19 and for more masks and other equipment; a flower delivery company owner who had to lay off his staff, noting, "Pretty much, we are stymied at this point as is our cash flow" and a soul food restaurant owner who said, "We all are deeply, deeply in trouble."
"My family and I have lived the past few months in extreme distress. There have been times when we have had to choose between paying for another night to stay at the hotel over eating something nutritious for dinner." @CASAforall member Jen Vanli sharing a powerful testimony. pic.twitter.com/jMJAJ0Ud8V

— Alex Vazquez (@Ale_xxxx_) December 23, 2020