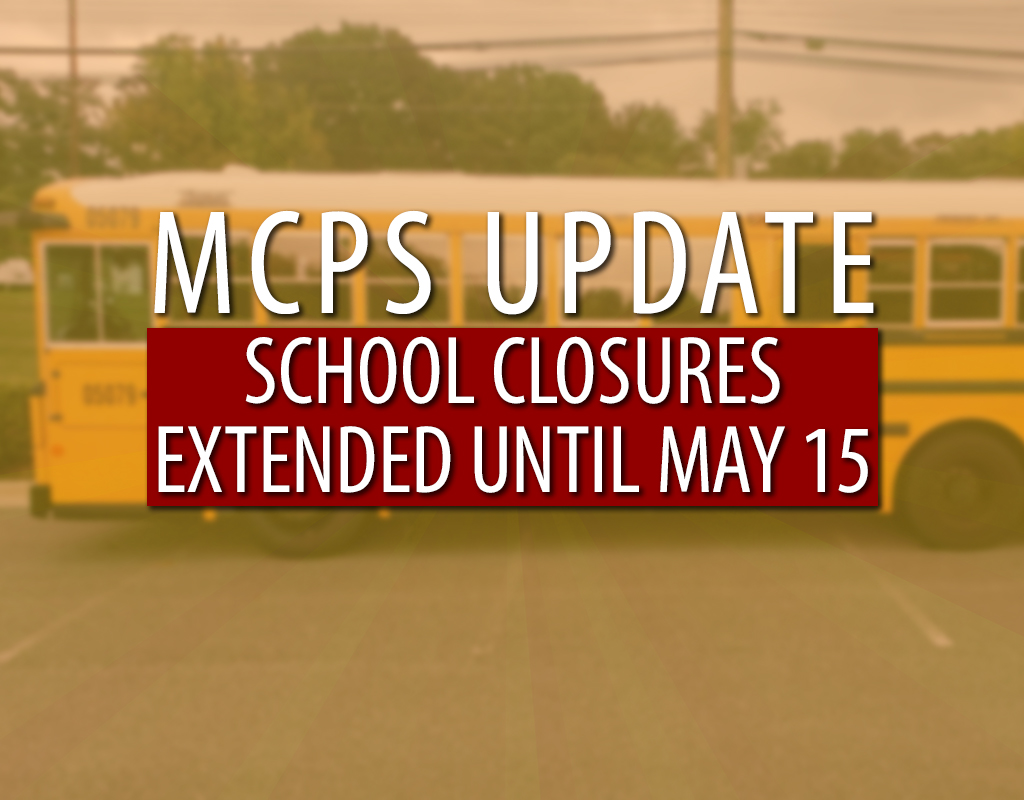 Maryland State Superintendent Karen Salmon announced during a news conference with Gov. Larry Hogan that Maryland public schools will continue to remain closed through May 15. Therefore, all Maryland public schools will proceed with online learning and students will not return to their school buildings during this time frame.
The decision was made to continue adhering to statewide physical distancing measures to combat the spread of the coronavirus. Salmon did not go as far as to say that the public school buildings in Maryland would remain closed for the remainder of the academic year, unlike Washington D.C.'s and Virginia's public schools.
On Friday, D.C. Mayor Muriel Bowser announced the District's public school buildings would remain closed for the rest of the academic year. Gov. Ralph Northam (D-VA) announced in March that Virginia's public school buildings would remain closed for the remainder of the school building.
"With regards to the remainder of the school year and the summer, we will use this time to examine every option, and continue to develop a long-term plan for recovery," Salmon said.
Salmon said it isn't possible to talk about reopening schools until Maryland completes its four building blocks to recovering from the public health emergency.
Hogan announced four building blocks Wednesday as guidelines Maryland needs to follow before the state's economy can reopen. The building blocks include (1) expanding testing capability, (2) increasing hospital surge capacity, (3) increasing supply of personal protective equipment, and (4) developing stronger contact tracing operations.
"State and local school officials are actively preparing for a number of scenarios depending on when our educators and students would be able to re-enter school buildings," Salmon said.
This week is recognized nationally as the Week of the Young Child, and I know this is an incredibly difficult time for our young children. I want to again assure them and their families that we are all in this together, and we will get through this together. #WOYC20

— Governor Larry Hogan (@GovLarryHogan) April 17, 2020
According to Salmon, local school superintendents are discussing plans with their school systems about creating additional digital learning opportunities over the summer as a way to recover lost instruction time from this academic year.
Salmon said these times of uncertainty are especially stressful for high school seniors.
"Local superintendents have been working on a number of alternatives to ensure our high school seniors receive the recognition they deserve," Salmon said.
The State of Maryland has received $45.8 million from the federal CARES act, Salmon said. The funds will be used to support child care programs for essential workers.
After the announcement, Montgomery County Public Schools tweeted that information will be sent to community members in the coming days about the continuation of online learning.
Gov. Larry Hogan and State Superintendent of Schools Karen Salmon announced on April 17 that Maryland public schools will be closed until May 15. Additional information will be sent to the MCPS community about plans for the continuation of online learning in the coming days.

— MCPS (@MCPS) April 17, 2020
Maryland State Education Association President Cheryl Bost released a statement in support of Salmon's announcement. Bost said there will also need to be a plan in place for how students recover from this public health crisis.
"Recent weeks have magnified existing inequities—whether of technology access, food security, or otherwise—that our students face every day and that challenge their ability to succeed in school. We must come together to address these issues over the short- and long-term," Bost said.
Tweet Summary of Hogan's News Conference Friday
Here's a play-by-play of Hogan's coronavirus news conference with Salmon in the form of tweets:
Maryland has 11,500+ coronavirus cases, Hogan says. @mymcmedia

— Deirdre Byrne (@DeirdreByrneMCM) April 17, 2020
Hogan thanks President Trump for the progress he's seen with coordination between federal government and states. @mymcmedia

He also thanks Trump for securing "critical relief in funding for the states."

— Deirdre Byrne (@DeirdreByrneMCM) April 17, 2020
Hogan says Maryland's coronavirus case numbers are continuing to grow, but we are seeing hopeful signs. @mymcmedia

Hogan discusses the four building blocks Maryland needs to reopen. See @maryam_mcm's story about this:https://t.co/pgBo3onDIU

— Deirdre Byrne (@DeirdreByrneMCM) April 17, 2020
Hogan reminds people about wearing face masks in retail stores and while using transportation starting tomorrow in Maryland. @mymcmedia

Hogan says spreading the coronavirus disease infringes on your neighbors rights, so Marylanders need to abide to this order.

— Deirdre Byrne (@DeirdreByrneMCM) April 17, 2020
Hogan announces the businesses that are being awarded grants to manufacture PPE. @mymcmedia

— Deirdre Byrne (@DeirdreByrneMCM) April 17, 2020
Hogan says Maryland Department of Human Services is working to start an online SNAP program so families with SNAP benefits can purchase meals online at no cost, that are delivered free. @mymcmedia

— Deirdre Byrne (@DeirdreByrneMCM) April 17, 2020
"There's so many people that are doing amazing things to help others in this time of uncertainty," Hogan says.

Hogan notes this time is especially difficult for young children, so Hogan tells young children, "We are all in this together. @mymcmedia

— Deirdre Byrne (@DeirdreByrneMCM) April 17, 2020
Salmon: "I understand the impact of the uncertainty of this situation and it's created much uncertainty across our school community."

This has been especially trying times for seniors, so Salmon said school officials are looking for ways to honor seniors. @mymcmedia

— Deirdre Byrne (@DeirdreByrneMCM) April 17, 2020
Salmon thanks all individual who've worked to provide childcare, calling them "champions." @mymcmedia

— Deirdre Byrne (@DeirdreByrneMCM) April 17, 2020
Hogan says he understands why people are eager to reopen the state, but he says we have to do this in a safe manner and the focus needs to be on saving lives. @mymcmedia

"I understand people's right to protest…I'm just as frustrated as they are."

— Deirdre Byrne (@DeirdreByrneMCM) April 17, 2020
Karen Salmon says the state is looking toward possible summer learning programs. @mymcmedia

— Deirdre Byrne (@DeirdreByrneMCM) April 17, 2020
.@GovLarryHogan thanks VA Gov. Northam and DC Mayor Bowser for their collaboration.

"While we may have individual differences," Hogan says communication has been terrific. The regions still are going up with coronavirus cases, but they're discussing reopening plans.@mymcmedia

— Deirdre Byrne (@DeirdreByrneMCM) April 17, 2020
Hogan says we need to have the right hospital capacity, we need increased testing, we need to have more contact tracing, and we need to have more PPE before Marlyand can reopen. @mymcmedia

— Deirdre Byrne (@DeirdreByrneMCM) April 17, 2020