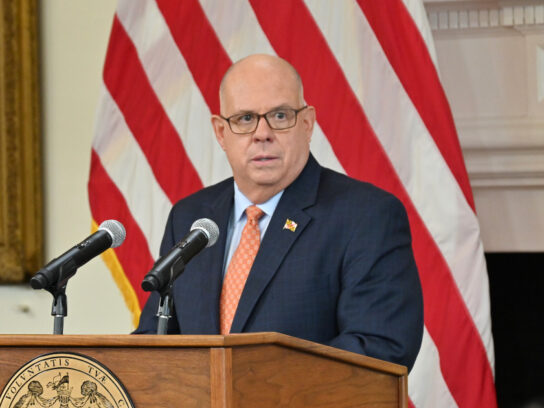 Gov. Larry Hogan held a press conference Wednesday to address concerns about the Omicron coronavirus variant and the worsening public health metrics indicative of an impending winter surge.
The Omicron Variant — What do we know?
The Omicron variant, first identified in South Africa, is labeled a "variant of concern" by the World Health Organization. The variant is now present in two dozen countries including the U.S. Dr. Jinlene Chan, Acting Deputy Secretary for Public Health, says much remains unknown about the variant. Factors still to be discovered include the transmissibility and severity of Omicron and whether or not current vaccines and treatments remain effective. Public health officials project answers could be multiple weeks away. However, Chan said, change in the virus is expected and mutations have been happening since March 2020.
"[Scientists] are doing laboratory studies on virus neutralization with antibodies that will give us a better understanding of what impact this variant might have," she said.
In the meantime, Hogan emphasized "personal responsibility" over blanket mandates.
"Throughout this entire year, we have repeatedly stressed that we are in a race between the vaccines and the variants," he said. "Because we are one of the most highly vaccinated states, we have been able to stay ahead of the virus. But we cannot become complacent and we do need to remain vigilant."
Testing remains "simple, effective, and widely available"
Hogan said testing continues to be crucial in detecting and containing the Omicron variant. Hogan recommends COVID-19 testing for Marylanders who are beginning to feel sick, planning to travel or returning from a trip. Marylanders can find testing sites near them by visiting this link.
Rapid tests can be found at locations including local health departments, libraries and community centers. The state departments of health and transportation work together to make rapid tests available at BWI Airport's international terminal.
The state Board of Public Works recently approved emergency procurement of supplies for detecting variants of COVID-19. It also extended agreements with Johns Hopkins and UMD, where hospitals perform genetic sequencing on all positive coronavirus tests.
"If Omicron does come to Maryland," Hogan said, "we will catch it and track it down."
Vaccination remains "our most important tool"
State health officials stress that while vaccines continue to be effective in combatting COVID-19, data shows waning immunity over time.
0.1 percent of Maryland seniors and 11.1% of Maryland adults have not yet been vaccinated against COVID-19. Additionally, individuals who completed their Moderna or Pfizer-BioNTech vaccine sequences on or before June 1 and those who received their single dose of the Johnson & Johnson vaccine on or before Oct. 1 are no longer considered fully vaccinated.
So far, the state has administered more than 1 million booster shots. Hogan said eligible Marylanders should get a booster shot in the next 10 days to be protected by Christmas.
Expect a Winter Surge
"We are beginning to see the anticipated seasonal uptick in some of our key health metrics including our positivity rate," which Hogan says is now above 5 percent.
At this point, Hogan says he doesn't expect Marylanders to change their holiday plans. Nonetheless, he does hope people will "be smart, be safe, and use common sense."
And while "some of the things we discover over the next few weeks may be important," he does not see an immediate need to change policy.
Asked whether Marylanders should prepare themselves for some of the measures that were in place earlier in the pandemic to return, Hogan responded; "I sure hope not."
"Here in the state of Maryland, as we have throughout this pandemic, we continue to hope for the best while actively preparing for the worst," he said. "I want to reassure Marylanders that our entire team is continuing to very closely monitor the situation."