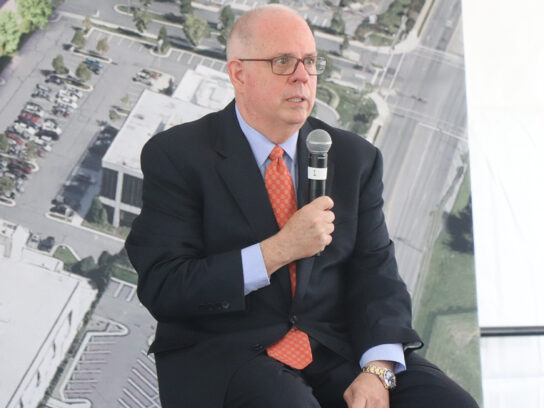 After the CDC announced its final approval granting emergency authorization of the Pfizer COVID-19 vaccine for children ages 5 to 11, Gov. Larry Hogan announced Marylanders can start making appointments for children.
Hogan said during a press conference Wednesday that the state has placed an initial order of 180,000 doses of the Pfizer vaccine from the federal government. Over the coming weeks, the state will receive more allocations. In the meantime, the health officials have authorized providers around the state to begin the appointment scheduling process and to begin holding clinics to vaccinate children.
The state will be providing additional staffing resources to school systems and local jurisdictions as needed, and we are deploying Vaccine Equity Task Force teams to ensure equitable access for families in underserved communities.

— Governor Larry Hogan (@GovLarryHogan) November 3, 2021
"I know that many parents are relieved, they have been looking forward to this day for many months, and have already decided to move ahead as soon as possible to protect their kids, to keep them in school, and to avoid unnecessary outbreaks and disruptive quarantines," Hogan said. "There are also some parents who want to do what's best for their children, but who still have questions. It is important that they get all of those questions answered."
Hogan said the state is launching a campaign to promote the safety and efficacy of the vaccine for children. All 24 of the state's school systems have already agreed to hold clinics in their schools. Jinlene Chan, deputy secretary of Maryland Department of Health, said this agreement is especially important to ensure the distribution is equitable.
The GoVAX Maryland call center is launching an effort to reach parents of eligible children to promote the vaccine. The state is also launching an ad campaign that will feature local pediatricians speaking about how the vaccines can keep children safe from contracting COVID-19. Hogan also urges families to talk to their personal pediatricians about COVID-19 vaccines for children.
Chan said the Pfizer vaccine for children is a smaller amount, but they will still need 2 microdoses taken three weeks apart.

The vaccine for children is packaged differently to ensure providers give the correct vaccine. @mymcmedia pic.twitter.com/GzNfKG8SJh

— Deirdre Byrne (@DeirdreByrneMCM) November 3, 2021
Can said that the state of Maryland has seen 700 hospitalizations related to COVID-19 for children under the age of 12. She said that the Pfizer vaccine for children, 5 to 11, is about one-third of the dosage provided to those over the age of 12. Children will receive two microdoses of the vaccine three weeks apart.  Pfizer is packaging its COVID-19 vaccines differently for children to ensure provides do not mistake the vaccine for the one offered to those 12 and over.
Like adults, children may experience side effects after their inoculation, Chan said, adding, "These common side effects are expected." If children experience side effects, they typically go away in two to three days.
Chan explains myocarditis and pericarditis. The CDC and FDA confirmed less than 900 cases of myocarditis and pericarditis connected to vaccinations.

These two conditions are also associated with COVID-19. @mymcmedia pic.twitter.com/z0WHhrdfPU

— Deirdre Byrne (@DeirdreByrneMCM) November 3, 2021
"The more we are vaccinated as a population, the more we can cut of the spread of disease and infection," Chan said.
Dr. Monique Soileau-Burke, vice president of Maryland's chapter of American Academy of Pediatrics, spoke about the safety of the vaccines.
She said, "I understand that parents and guardians want to do the right thing for our children. Vaccinating our children is the right thing to do." Soileau-Burke is hosting an informational virtual event Thursday at noon to answer Marylander's questions about vaccinating children.
Meet Dr. Monique Soileau-Burke, a pediatric dr & our next #AskAnExpert host! She joins us during an exciting week when vaccines for kids 5-11 are under review for final approval. Tune in LIVE on Thurs 11/4 @ 12 with questions! #GoVAXMaryland #MDVaxFacts @MarylandAAP @ThePedCenter pic.twitter.com/nDdVjeMs8K

— GoVAX Maryland (@GoVAXMaryland) November 2, 2021
Dr. Michael Zollicoffer, a pediatric medicine expert, said although children were not the hardest hit population during the pandemic, "too many" children died from COVID-19. He said now that the vaccine has been authorized for children, "We have hope today."
Zollicoffer pleaded with parents to "save our children."
"We have a safe shot, we have an effective shot," Zollicoffer said. "And for the 5-year-olds we now have that pot of gold at the end of the rainbow."
To find a vaccine provider, Marylanders can visit https://t.co/MjHeoZ5E5J or call 1-855-MD-GOVAX.

— Governor Larry Hogan (@GovLarryHogan) November 3, 2021
Maryland Department of Health Secretary Dennis Schrader said he expects demand for vaccines for children to be high in the beginning and after a couple of weeks the demand will plateau. Chan said health departments are already planning mobile clinics to reach hard-to-reach communities.
"We have a number of tools in our toolbelt to really get into communities," Chan said.
Parents and carefivers can vaccinate their children through schools and local health departments, pediaticial and family physician offices, and at pharmacies. To find a vaccine providers Marylanders can search online or call 1-855-MD-GOVAX.