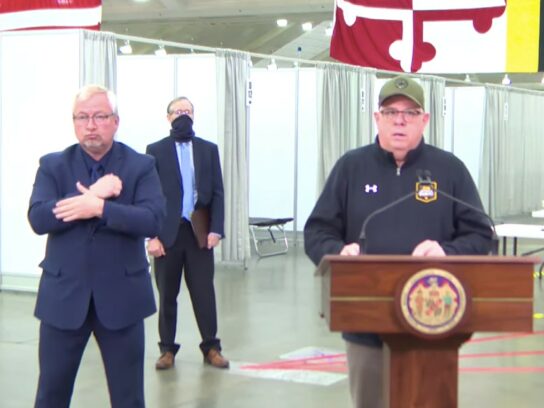 Hogan's Latest Coronavirus Action: Racial Data, Baltimore-Washington Corridor Deemed COVID-19 Hotspot, Strike Teams for Nursing Homes
Gov. Larry Hogan announced at a press conference in Baltimore Tuesday that he's directed Maryland Department of Health's Office of Minority Health and Health Disparities to start offering racial and ethnic breakdowns for all of the state's coronavirus cases.
The announcement comes after recent national reports indicating the coronavirus is hitting minor communities harder than it's hitting white communities.
The Atlantic reports, "Black people, at 46 percent, and Latinos, at 39 percent, are about twice as likely as white people, at 21 percent, to view the coronavirus as a major threat to their health."
Hogan was in Baltimore touring Maryland's field hospital site at the Baltimore Convention Center. For the first time, Hogan was seen wearing a cloth face mask in public, which he said was made by prisoners at the Maryland Correctional Facility.
Hogan announced that the White House has deemed the Baltimore-Washington corridor a "hotspot" for the coronavirus.
"Over the past two weeks I have been sounding the alarm with the president, the vice president, members of the president's task force, and other top administration officials, and I'm pleased to report that we have succeeded in convincing the Trump administration to designate the greater Baltimore-Washington corridor as a priority," Hogan said.
https://www.instagram.com/p/B-siEdphc3l/
Montgomery County is included in the Baltimore-Washington corridor, Hogan said.
Hogan thanked Marylanders who have been adhering to his "Stay at Home" executive order announced on March 30, and condemned businesses and people that are violating the order. Hogan announced a new executive action that allows local health departments to modify a businesses operation or shut  the business down.
Because there are cases and clusters of the coronaviruses in 90 nursing homes throughout the state, Hogan also announced the implementation of strike teams for nursing homes.
These teams will consist of "members of the National Guard, representatives of local and state health departments, and EMS clinicians, as well as doctors and nurses from local hospital systems." They can be activated by nursing homes, local health departments, as well as Maryland Department of Health.
During my visit, I announced additional actions to slow the spread of #COVID19, including a first-in-the-nation strike team plan to support our nursing homes.

Find a comprehensive list of today's announcements here: https://t.co/GzYOsOUIVV

— Governor Larry Hogan (@GovLarryHogan) April 7, 2020
There are three teams that can be activated: testing teams, assistance teams, and clinical teams.
According to Hogan, the COVID-19 statewide peak is coming, but the early and drastic action taken in Maryland to combat the spread of coronavirus has been effective.
A Tweet Play-By-Play of Hogan's Press Conference
Here are live tweets summarizing what Hogan talked about in Tuesday afternoons press briefing in Baltimore.
.@GovLarryHogan said Maryland is making progress on increasing hospital beds.

–MD has received ventilators from FEMA.
–Hogan thanks @VP Pence for following through on his commitment to send 200 ventilators to MD.@mymcmedia

— Deirdre Byrne (@DeirdreByrneMCM) April 7, 2020
9,000 cases of COVID-19 in DC, MD, VA, @GovLarryHogan says. @mymcmedia

— Deirdre Byrne (@DeirdreByrneMCM) April 7, 2020
Hogan thanks the Trump administration for designating the Baltimore-Washington corridor and 12 designated places in Maryland as hotspots. @mymcmedia

— Deirdre Byrne (@DeirdreByrneMCM) April 7, 2020
Hogan said there will be gaps in data that becomes available. @mymcmedia

— Deirdre Byrne (@DeirdreByrneMCM) April 7, 2020
Hogan said MD is launching state-wide strike teams "to bring triage," supplies and more to nursing homes. MD is activating 3 types of strike teams:

1. Testing teams
2. Assistance teams – made up of National Guard Members
3. Clinical Teams – include doctors, nurses@mymcmedia

— Deirdre Byrne (@DeirdreByrneMCM) April 7, 2020
Eight days ago, Hogan enacted the stay at home order. Hogan thanks Marylanders and businesses for following this order. @mymcmedia

— Deirdre Byrne (@DeirdreByrneMCM) April 7, 2020
Hogan praises Marylanders who have stepped up during this pandemic. He encourages others to volunteer/give blood/learn more by going to: https://t.co/hdL8pO5yzK@mymcmedia

— Deirdre Byrne (@DeirdreByrneMCM) April 7, 2020
Tom Inglesby (@T_Inglesby) the Director of @JHSPH_CHS is speaking now. @mymcmedia

Inglesby says the "peak day" is "some day soon." One model from the White House says Maryland's peak is coming in 10 days, but Inglesby hopes the peakday is sooner.

— Deirdre Byrne (@DeirdreByrneMCM) April 7, 2020
David Marcozzi, from UMD School of Medicine, is now talking about how the medical delivery system is readying itself for the coronavirus. @mymcmedia

— Deirdre Byrne (@DeirdreByrneMCM) April 7, 2020
Mitchell Schwartz, of Luminis Health, says Luminus was formed last July. They have 9,000 employees and hundreds of physician's offices. @mymcmedia

— Deirdre Byrne (@DeirdreByrneMCM) April 7, 2020
Hogan praises Maryland's coronavirus team, calling them "superstars." @mymcmedia

— Deirdre Byrne (@DeirdreByrneMCM) April 7, 2020
.@T_Inglesby said before the state reopens, the coronavirus numbers needs to be brought down really low so that it can be controlled.

"We really need to prepare our healthcare system so if there is a surge in the future" they have enough equipment and PPE. @mymcmedia

— Deirdre Byrne (@DeirdreByrneMCM) April 7, 2020
Hogan said his team doesn't know exactly how many coronavirus cases there will be in Maryland. @mymcmedia

— Deirdre Byrne (@DeirdreByrneMCM) April 7, 2020
"Testing continues to be the" primary "frustration," Hogan said.

Reports of rapid testing, 45 mins/15 mins, is coming but it isn't here yet. @mymcmedia

— Deirdre Byrne (@DeirdreByrneMCM) April 7, 2020
Hogan said he was calling everyone in Washington two weeks ago about the numbers we were starting to see in the Baltimore-Washington Corridor.

The last call, @VP told Hogan Maryland and DC would be made a priority. @mymcmedia

— Deirdre Byrne (@DeirdreByrneMCM) April 7, 2020
Hogan said "there will be massive budget problems for us [Maryland], for every state in America." @mymcmedia

— Deirdre Byrne (@DeirdreByrneMCM) April 7, 2020
Hogan said the state will probably ease back into normal life gradually in stages, like it has with implementing social distancing policies.

"We want to make sure we don't go back to [the coronavirus being a problem again]," so the state will be very cautious. @mymcmedia

— Deirdre Byrne (@DeirdreByrneMCM) April 7, 2020