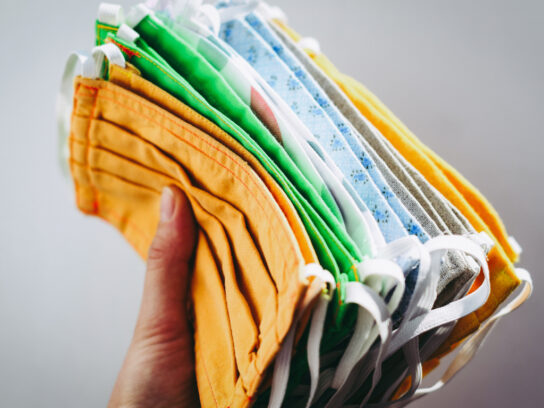 Montgomery County Council is no longer expected to eliminate its mask mandate at its Jan. 4 meeting even if 85% of residents have been vaccinated, as councilmembers previously suggested.
Currently, the county vaccination rate is at 83%.
According to Dr. Earl Stoddard, Montgomery County assistant chief administrative officer, Dr. James Bridgers, acting county health officer, recommended that the county delay and re-evaluate its mask mandate policy at the end of January.
"We will revisit and review the process at the end of January," Stoddard said.
There were 872 new cases of COVID-19, Montgomery County Health and Human Services Public Health Emergency Preparedness Manager Sean O'Donnell said, bringing the county's case load per 100,000 residents over the past seven days to 649.5, which is considered high transmission.
That rate has been raising steadily since the Omicron variant entered Montgomery County.
"That is eight times the case rate we were at at the beginning of the month," County Executive Marc Elrich said.
The county's 14.1% test positivity rate is "a six-fold increase in just three weeks," Elrich said, adding, "We expect these numbers to get worse instead of better."
O'Donnell and Dr. Ann Burke, an obstetrician at Holy Cross Health, said that despite the increases, there is still significant capacity at area hospitals. "Our emergency rooms are open and available," Burke said.
The area is experiencing a "significant increase" in pregnant women testing positive, according to Burke but she added the vast majority of those cases have not been serious.
Many residents have become frustrated trying to purchase self-administered COVID-19 tests or sign up for testing at county sites.
O'Donnell said the county is seeking larger sites to administer the testing and has moved from the Dennis Avenue Medical Center in Silver Spring to the larger Silver Spring Civic Center.
County testing sites will be open at reduced hours on New Year's Eve and will operate on Jan. 2.
Elrich called on residents to be patient as so many more people are signing up to be tested. Recently, it took almost two days to get test results back and now it can take five days.
The county ordered one million rapid tests and expects to receive 300,000 of them next week, Elrich said. He would like Gov. Larry Hogan to reinstate Maryland's Covid-19 State of Emergency and the extra hazard pay for frontline workers.