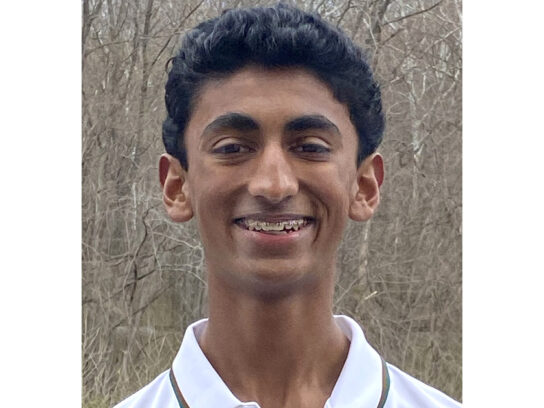 Although he didn't make it to the finals of the 2022 Scripps National Spelling Bee, Vikram Reddy of Rockville called his experience under the lights and in front of a crowd very valuable.
The eighth grader at Robert Frost Middle School was eliminated Tuesday. This was the third time he competed in the regional spelling bees but only the first time to make it to the national competition.
"I started my spelling career in third grade. I got more serious in the fifth grade," he told MyMCM.
He felt well prepared for the contest but thought he was a bit too nervous to do his best.
"What I really liked was that all the staff members were really supportive. They wanted us to relax and not worry too much about the outcome." He also appreciated the "chance to express myself on a larger stage."
As he prepares to go to high school, Reddy said, "I'll always love literature." He called Roald Dahl his favorite author, noting he especially enjoys alternative realities.
On Tuesday, Reddy competed with 234 students from across the country. He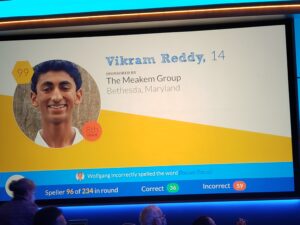 correctly spelled ullage, the amount by which a container falls short of being full. He then correctly chose the definition of obstreperous, which means stubbornly defiant.
However, the 14 year old incorrectly spelled rheometer and was eliminated.
"I think he did fantastic. He's just been slowly and steadily building his vocabulary," said his mother, Prabha Viswanathan. "I think he did a really good job," she told MyMCM.
In the months leading up to this week's national competition, her son continued his participation in sports, thereby alleviating some of the pressure he felt, his mother explained.
Because Reddy is finishing eighth grade, he will be too old to compete in the 2023 competition. However, his sister, Bella Reddy, is a fifth grader with ambitions to compete in a future national bee.
"She's really motivated to do it, and I want to help her succeed in her goals," said her brother,