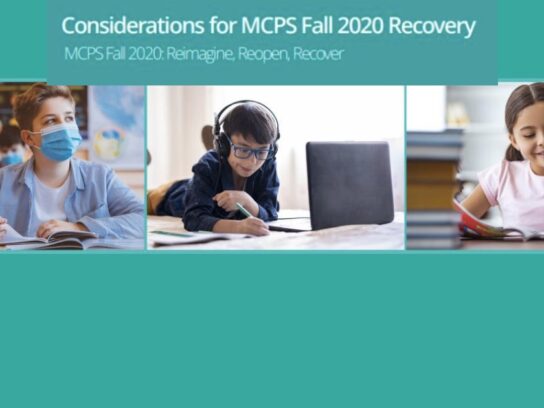 Montgomery County Public Schools announced on Saturday that they anticipate the start of the 2020-21 school year will be virtual only.
In a community message, Superintendent Dr. Jack Smith announced on Saturday The MCPS Fall 2020: Reimagine, Re-open, Recover Guide which details initial considerations and planning models for re-opening schools. The school year begins on Monday, August 31, 2020, for all students.
According to the guide, MCPS anticipates starting the school year in a virtual-only instructional model due to the COVID-19 pandemic. The school system envisions new health protocols, and physical distancing guidelines as students gradually return to school.
The MCPS Fall 2020 Draft Recovery Guide states: "Students will return to schools on a rotational schedule for in-person learning with reduced class sizes and reduced numbers of students in the buildings. Due to limited capacity, transportation resources will be prioritized to elementary and middle school students. The goal is for all grade levels to be in a school rotation by the end of November. Students will return to classrooms by grade level, last name/address, and cluster in phases over the first months of the school year". 
Phases could last two to four weeks, depending on school level and age. The phases could also be adjusted based on changing public health conditions and implementation experience according to the guide.
The school system made it clear that this is a draft guide, and it continues to be adjusted and improved based on recommendations and feedback from parents, staff, and students. MCPS officials say they've discussed and evaluated several possible models for re-opening schools, and no one option can address all of the instructional, operational, and logistical challenges the school system faces. All options MCPS considers will be examined through the lens of equity and excellence to ensure the health and safety of its 166 thousand students and 24 thousand staff members, according to officials.
The decision to re-open school buildings for some or all students will ultimately be made by Governor Larry Hogan and State Superintendent of School Dr. Karen Salmon.
The MCPS Fall 2020: Reimagine, Reopen, Recover Guide provides an overview of a few of the recovery models we are considering at this time. This is a draft guide; MCPS will amend & improve these recommendations as it receives feedback. Info: https://t.co/x4AVgMIRBK pic.twitter.com/MyzjOnDMyu

— MCPS (@MCPS) July 11, 2020
See related posts below:
MCPS Offers Preview of How Schools Could Operate if Students Return to Classrooms