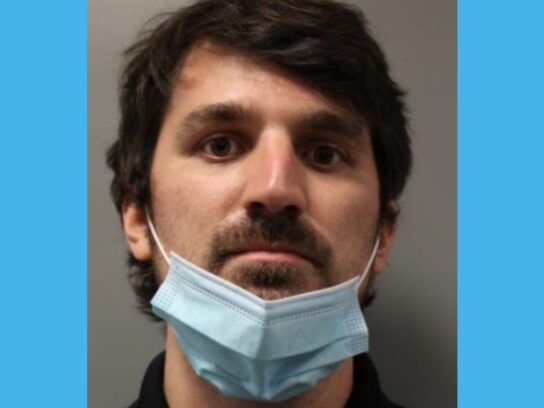 A Montgomery County Public Schools teacher, who was also a former Maryland Congressional candidate, was arrested Wednesday and faces several charges for inappropriate sexual contact with an eighth-grade student. Montgomery County Police Department said in a statement that there's a possibility of additional victims.
Police say Maxwell Bero, 30, of Clarksburg allegedly had sexual interactions with a 14-year-old female victim when she was his student at Col. E. Brooke Lee Middle School in Silver Spring. The sexual interactions, according to police, occurred after school hours on school property from August 2014 to June 2015.
On July 28, MCPD detectives began investigating the now 19-year-old victim's allegations of sexual abuse by Bero. Police say investigators learned, "Bero engaged in inappropriate sexual contact and exchanged inappropriate sexual materials and messages" with the victim.
Police say Bero was arrested Wednesday and charged with offenses including "sexual abuse of a minor and multiple counts of committing a third-degree sexual offense." He was taken to the Central Processing Unit, police say. Bond information has not been released yet.
Bero, Now a Watkins Mill Teacher, Has Been Placed on Administrative Leave
Maxwell Bero worked at Lee Middle School from 2013 until 2016. He is currently a social studies teacher at Watkins Mill High School in Gaithersburg, where he has worked since 2016.
Derek Turner, a spokesperson for MCPS, said in a letter to families Wednesday, "MCPS is cooperating with law enforcement," adding, "Bero has been placed on administrative leave."
"These charges are deeply concerning and unacceptable and represent a complete breach of trust, responsibility, integrity, and the law. We hold our employees to a high standard of character, and these allegations violate that. Please know that the safety of our students is our top priority and we are committed to ensuring we maintain a safe learning environment for all," Turner said.
According to Turner, Bero has been an MCPS employee since 2009. Before working at Lee Middle School, Bero was a substitute teacher at various MCPS schools. Turner says in 2013 Bero was a longterm substitute at Wheaton High School "and also served as head boys' varsity lacrosse coach and assistant varsity football coach."
Turner said MCPS is making counseling and support staff available to students this week. He said any parents who believe their child may have been victimized by Bero should call MCPD's Special Victims Investigations Division at 240-773-5400.
School Teacher Arrested for Inappropriate Sexual Contact with Student; Possibility of Additional Victims a Concern: https://t.co/ULazj54MAa

— Montgomery County Department of Police (@mcpnews) August 26, 2020
Bero Ran As 'Progressive' Challenger to Trone in Spring
This spring, Bero ran as a Democratic candidate for Maryland's 6th Congressional District seat against incumbent U.S. Rep. David Trone (D-Md.). Bero ultimately lost, receiving 16,111 votes (28.7%). Trone won the primary receiving 39,949 votes, which was 71.3% of the vote.
In interviews, Bero presented himself as a "progressive" candidate for supporting policies like "Medicare for All" and "A Green New Deal." In a paid social media advertisement, he touted his endorsement by Our Revolution, a political group started by Vermont Sen. Bernie Sanders. A message is posted on Bero's campaign website thanking the voters who supported him in the primary.
In the message, Bero references his coaching experience:
When coaching, I always tell my players to 'Leave No Doubt', which means that when they have a goal, they should do whatever they can to reach it. Now that this campaign has reached its end, I can honestly say that I left no doubt. The ideas I believe in aren't going away, and we'll always need progressive fighters ready to fight for the change we need."
In an interview for Bethesda Beat's 2020 Voters Guide, Bero talked about how his experiences teaching in Montgomery County influenced his support of progressive policies:
For the past 8 years, I've taught U.S. History and American Government to students of all levels in some of the most struggling areas of Montgomery County. I've seen firsthand how their lives have been affected by government policy of all levels, and I know progressive policies like universal health care and improved public transportation, among others, can completely change Americans' lives. As a teacher and coach, I'm used to figuring out ways to motivate and inspire others, and develop creative solutions to problems, and I'm prepared to do the same in Washington.