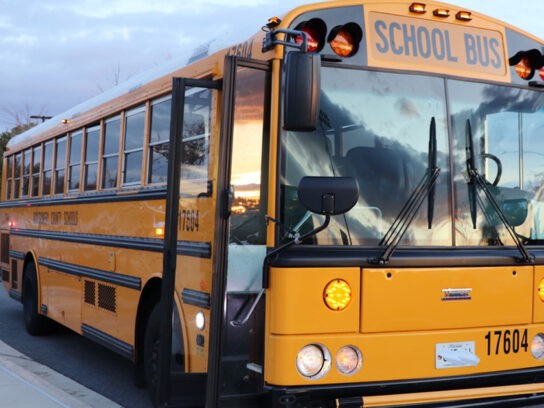 According to a recently released Financial Management Practices Audit Report by the Maryland General Assembly, two Montgomery County Public Schools transportation managers are under investigation for using almost $600,000 of MCPS funds for their personal use,
According to the audit by The Office of Legislative Audits, Department of Legislative Services, MCPS questioned some purchases during its normal review of credit card activity. An internal audit unit by the school district found "questionable purchases," including gift cards, furniture, and other purchases that were shipped to an employee's home.
Specific information, including the names of the managers, was redacted from the audit report.
However, MCM reported in November 2021 that two staff members of the Montgomery County Public Schools Department of Transportation were under investigation by the Montgomery County Police Department concerning allegations of possible financial improprieties.
According to information learned at that time, Director of Transportation Todd Watkins and Assistant Director Charles Ewald were being investigated concerning a $600,000 discrepancy in terms of credit card abuse. The two men no longer work for MCPS.
According to the internal audit, MCPS found an account maintained by a transportation vendor, whose name also was redacted from the audit. That account was not part of MCPS' Office of Finance and, therefore, not monitored by MCPS.
"This "off the books" account was used to make payments to several MCPS employees and to purchase goods and services circumventing MCPS' established policies and procedures," it states in the report that is dated September 2022.
The account apparently was funded with money due to MCPS for damages that resulted when the vendor did not deliver goods on time. Also, credits for certain items in the original bus procurement contract that were paid for but then canceled were diverted, according to the internal report.
After that internal audit was complete, MCPS reported its results to the Montgomery County Police Department. At the same time, they also hired an accounting and advisory firm in December 2021 to conduct an independent investigation of transactions from July 2016 through January 2022.
In February, the firm that completed the independent investigation found that about $1.2 million had been deposited into the unmonitored account and that payments of about $649,000 were made directly to MCPS employees or for the purchase of goods and services.
The independent firm also reviewed credit card purchases from July 2016 to January 2022 and found purchases of about $572,000 made by employees from MCPS's transportation department "that were considered questionable or required additional review," according to the state audit report.
Watkins and Ewald were placed on administrative leave on Nov. 15, 2021. According to the report, one transportation manager was terminated in February and the other manager resigned in March.
The police department and the State's Attorney's Office currently are conducting an investigation, and MCPS is pursuing collection of the credit balance of $535,636 with the transportation vendor, according to the state report.
MCPS is modifying how it purchases buses and what happens when changes are made to bus specifications. It also provided training to employees on proper credit card usage and has eliminated credit cards based on limited or no purchasing activity.
Top Leaders of MCPS Transportation on Leave Pending Financial Investigation