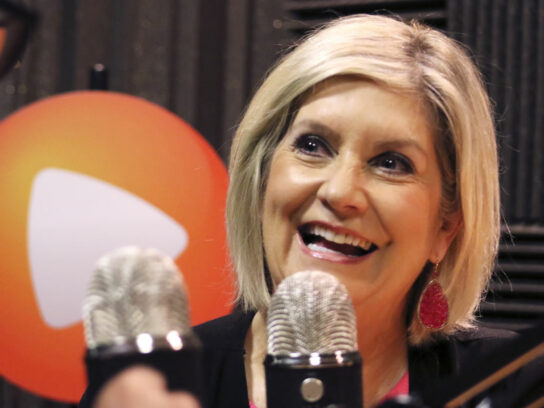 Sue Palka, one of the longest running anchors in DC television history, announced live on the air Wednesday night that she will be "stepping back" from her duties in March.
Palka, FOX5's chief meteorologist, will end her 36+ year run on March 23 she announced on the Ten O'Clock News much to the surprise of her fellow anchors. She will contribute occasional feature reporting after that.
Palka, 66, was born in Erie, Pa. but has lived in Montgomery County for over 30 years. She is a six-time Emmy winner and had a small part in the 1989 movie, "The War of the Roses."
FOX5 moved its headquarters to downtown Bethesda in 2020 after decades in Friendship Heights.
Breaking: a tearful @suepalkafox5dc announces live on the air (stunning her co-anchors) on @fox5dc that she will be "stepping back" from her duties as the station's chief weather person after 36+ years. March 23 will be her last day. @mymcmedia

— Joe Yasharoff (@JYash) January 13, 2022
SUE PALKA 🌅 @suepalkafox5dc

You are as beautiful (INSIDE & OUT) as that sunset. Thank you for being such a ray of sunshine ☀️ in the newsroom. Whenever I go to the station, I always look forward to feeling your warmth 🤗 I appreciate your positive leadership @fox5dc! pic.twitter.com/yONn4uZXPt

— Sierra Fox (@thesierrafox) January 13, 2022
Legendary WTTG Chief Meteorologist Sue Palka will sunset weather duties, but remain key member of FOX 5 team https://t.co/T0CmLUenla

— FOX 5 DC (@fox5dc) January 13, 2022
WE LOVE YOU & WILL MISS YOU! ❤❤❤ What is your favorite Sue Palka moment from her 36 plus years at FOX 5? https://t.co/DoEjKE3FPW @suepalkafox5dc #GoodDayDC pic.twitter.com/yi0EtdeD2A

— FOX 5 DC (@fox5dc) January 13, 2022
Related post:
First Snow of 2020 Makes FOX5's Sue Palka 'Ridiculously Giddy'