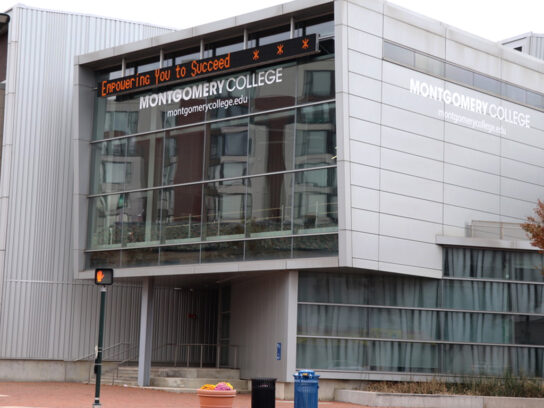 Montgomery College announced Wednesday that classes scheduled Thursday though Saturday are canceled amid concerns over the coronavirus outbreak.
Montgomery College President DeRionne Pollard said in an email to the campus community that after spring break—which is March 16 through 20—the college would transition to remote learning from March 23 to April 3. The decision was made to practice "social distancing" and restrict the number of people on campus to minimize the potential spread of COVID-19, Pollard said.
Pollard said the college is continuing to evaluate its operation factors and will communicate further plans on April 1.
Visit https://t.co/478CW0wpGD for additional information. pic.twitter.com/w5eCr25801

— Montgomery College (@montgomerycoll) March 11, 2020
In the meantime, Pollard said the college will provide technology to students and it will also work to accommodate students with nonacademic related needs. Pollard said casual and temporary workers at the college will be compensated "for the two-week period of emergency remote work, based on an average of their hours to date."
"The College has been in communication with the Montgomery County DHHS to inform them of our plans and they are consistent with the approach being taken by other local institutions of higher education," Pollard said.
The news comes after the World Health Organization declared the outbreak to be a global pandemic. On Tuesday, the University of Maryland and other state schools also announced the move to remote learning.
MC Public Safety Advisory: All MC classes for Thursday, March 12, Friday, March 13, and Saturday, March 14 are cancelled. MC students, we strongly advise you to monitor email and https://t.co/eeAsCmK59h for further information.

— Montgomery College (@montgomerycoll) March 11, 2020
On Monday, Pollard emailed the Montgomery College community about a student who reported being in contact with several others  "exhibiting flu-like symptoms." Marcus Rosano, a spokesperson for Montgomery College, told MyMCMedia the decision to move to remote learning didn't have anything to do with concerns about this student.
Rosano said this student has since been to a healthcare provider and the provider determined she didn't show coronavirus symptoms. Therefore, she was not tested for the coronavirus, Rosano said.
Montgomery College is continuing to offer updates on its coronavirus response plan on its website.
Related Post:
UMD, Among Other Local Universities, Moves to Online Education