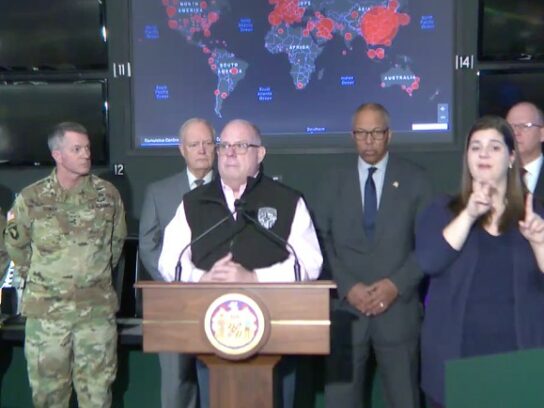 Gov. Hogan provided updates about the COVID-19 coronavirus at a press conference Wednesday. 
He said a few hours ago, the World Health Organization (WHO) declared the coronavirus outbreak is a global pandemic. WHO said it is deeply concerned by alarming levels of spread, severity, and inaction. 
Director of the National Institute of Allergy and Infectious Diseases (NIAID) Anthony Fauci said that the coronavirus is about ten times more lethal than the seasonal flu, according to Hogan.
LIVE COVID-19 Update – March 11, 2020https://t.co/9kImaRRopt

— Governor Larry Hogan (@GovLarryHogan) March 11, 2020
Hogan confirmed that a Montana woman in her seventies tested positive for the coronavirus at a hospital in Anne Arundel County. She had contact with an infected person in another state and brought the virus to Maryland. Although it's a Montana case, Maryland state and local health officials are taking the lead on the case and are tracing the patient's public interactions, Hogan said. 
There are 12 Marylanders aboard the Grand Princess cruise ship docked off the coast of California, which reported 21 positive coronavirus cases. Passengers are in the process of being moved to military bases in Texas and Georgia for testing and quarantine. 
The U.S. Department of Health and Human Services (DHHS) asked to send passengers who have no symptoms back to their home states, but Hogan said his administration told the DHHS they must test all 12 Maryland passengers on the military bases before taking any other steps. Hogan said the Marylanders who test negative will come home, and those who test positive will stay on the military base. 
Hogan announced on Tuesday night, a volunteer first responder who works in Montgomery County and is a resident of Prince William County, Virginia tested positive for the coronavirus. The patient is tied to the rector at Christ Church in Washington, D.C. who tested positive for the virus. Hogan said the fire station and fire crew the patient works with have been cleared and there is no major concern with risk to the community.
The governor previously announced a Montgomery County patient who tested positive for the coronavirus attended an event with 70-100 at The Village at Rockville retirement community. 
Hogan said nursing homes in Maryland will enforce restricted access to essential visits only, will screen all people entering and will restrict anyone with respiratory symptoms. All staff is prohibited from international travel.
Hogan said all Marylanders need to understand that there may be significant disruption to their everyday lives for a period of time, and to prepare. He said residents should be prepared for dramatic increases in positive cases, as can be seen in other states that had positive cases before Maryland did. 
On Thursday, Hogan will deliver a State of the States Address on behalf of all governors in the U.S. He is chair of the National Governors Association.