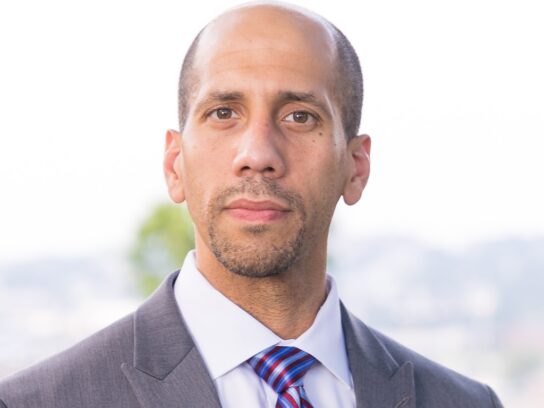 Jermaine Williams, el nuevo presidente de Montgomery College, prometió ayudar a los estudiantes a superar las "desigualdades e injusticias" que se exacerbaron durante la pandemia y permitirles tener éxito en el futuro.
"La educación superior es el puente hacia un salario digno para la familia, movilidad social y una ciudadanía comprometida", dijo Williams al ser presentado al personal, los estudiantes y la administración.
Actualmente es presidente del Nassau Community College en Garden City, Nueva York, y tiene casi 20 años de experiencia en educación superior. Reemplaza a DeRionne Pollard, quien se fue para convertirse en presidente de Nevada State College.
Welcome to @montgomerycoll's next President, Dr. Jermaine Williams! Dr. Williams will officially begin his role as president of the College in the first quarter of 2022.#newbeginnings #MC75years #montgomerycounty #montgomerycollege #communitycollege #returntocampus #MCstrong pic.twitter.com/D4LkYsn8LL

— MontgomeryCollegeTV (@MCTVsocial) December 21, 2021
El ejecutivo del condado, Marc Elrich, felicitó a Williams y señaló que "la Dr. Pollard dejó grandes zapatos para llenar y grandes expectativas, pero estoy seguro de que los antecedentes del Dr. Williams le dan la base para llevar Montgomery College a nuevas alturas".
Añadió: "Espero reunirme y trabajar con el Dr. Williams en nuestros objetivos compartidos de garantizar que la educación superior se pueda obtener, sea asequible y, lo más importante, equitativa para los residentes del condado de Montgomery".
New @montgomerycoll President Dr. Jermaine Williams takes time after his introductory celebration to chat with MC students, faculty, employees. The current @NassauPrez, Dr. Williams will take over for Interim MC President @CharleneMDukes. #NewRaptor pic.twitter.com/zITO9qLI3W

— Marcus Rosano (@MC_MarcusPR) December 17, 2021