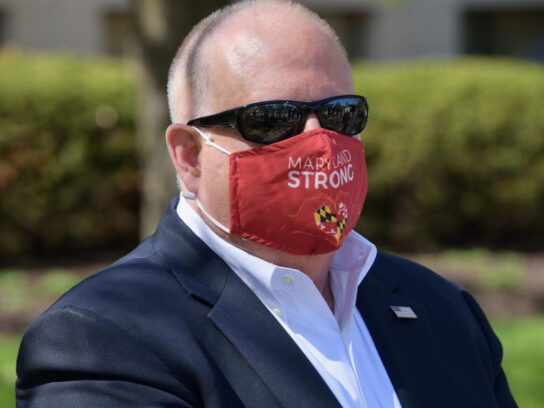 Montgomery County is the only county in Maryland not to announce a specific date to begin relaxing the stay at home order, Gov. Larry Hogan said Wednesday.
Hogan held a news conference to declare that throughout the state, important benchmarks are trending down – including numbers of people hospitalized, percentage of positive COVID-19 tests and number of people that the state's contact tracers have spoken with.
Montgomery County also is "seeing dramatic decreases," and the rate of positive tests compared with the number of tests taken has decreased by "nearly 50 percent," Hogan said, from a high of 32.6 percent about one month ago to the current 15.8 percent.
Statewide, 12.8 percent of people who have been tested for COVID-19 are infected with the novel coronavirus, according to Hogan.
The Governor questioned whether Montgomery County leaders are using the proper benchmarks to determine when to reopen. He said the number of new cases is not a good measurement to determine if things are improving.
As testing increases, the number of cases will rise, Hogan said, adding it is more important to measure hospital room use and percent of positive tests registered.
He called on Montgomery County to reopen partially.
"I think they all ought to move forward," he said. "Montgomery County now has not set a date. I believe they need to."
Earlier Wednesday, County Executive Marc Elrich said the county could reopen partially within the next week or two.
Elrich did not immediately respond to a request for comments on Hogan's remarks.
According to Hogan, Maryland is now conducting 10,000 COVID-19 tests daily, or a total of 300,334 tests to date.
Since the end of April, the state's statistics concerning coronavirus have been improving, Hogan said.
Because the benchmark numbers are trending downward, Hogan announced that as of Friday, May 29 at 5 p.m., any county that chooses could move into the second half of the first state of Maryland's road to recovery.
Montgomery County will not be one of those counties. It has yet to begin the first part of Stage One.
The new stage on the Road to Recovery allows restaurants to open for outside dining only as long as there are no more than six people per table, and other restrictions.
Also included in the second part of Stage One are the opening of outdoor activities including "safe youth sports activities," outdoor pools and drive-in movie theaters.
These facilities must follow the Centers for Disease Control guidelines concerning social distancing, use of masks, capacity limitations and staff training.
"The fight against this virus is by no means over," Hogan said, noting that 48,423 Marylanders have been infected with COVID-19.
However, he said, as long as people continue to social distance and not gather in groups, he expects to announce further loosening of the stay at home order in the near future.
Hogan took a moment to address the people who are unemployed and business owners who are suffering, which he said "frustrates the heck out of me."
He hoped that the federal government will fill unemployment claims more quickly and that local governments will help businesses get back on their feet.