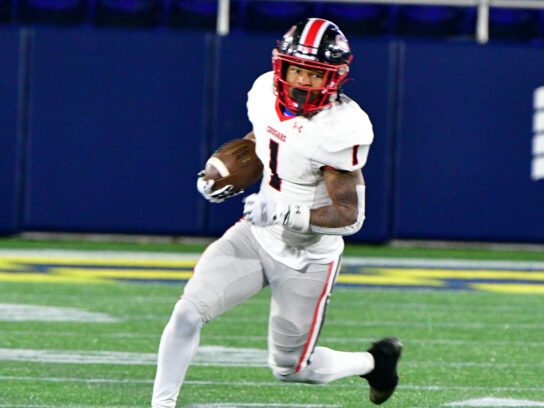 It is safe to say that Iverson Howard is not your average 16-year-old.
As a freshman, he led the Quince Orchard High football team in rushing, helping the Cougars win the 2021 Maryland 4A championship.
Now a 5-foot-11, 180-pound sophomore, Howard followed up with a strong encore. He rushed for 1,545 yards and 19 touchdowns this season, averaging 9.3 yards per carry. And he was at his best when it mattered most, rushing 27 times for 191 yards and two touchdowns as the Cougars beat C.H. Flowers, 32-7, this past Thursday night to win their second consecutive Maryland 4A title.
"He just gets better as the game goes on," Quince Orchard Coach John Kelley said. "The more carries he gets, the better he gets. He played his best football in the playoffs. From Week 1 to Week 14, how much better he got was crazy."
For his efforts, Howard was named the Montgomery County Sports Hall of Fame High School Athlete of the Week.
Each week throughout the school year, the Montgomery County Sports Hall of Fame is partnering with Montgomery Community Media to honor an Athlete of the Week from the county's more than 40 public and private high schools.
The previous Athletes of the Week were presented with a commemorative hat and certificate at this past Sunday's Montgomery County Sports Hall of Fame Class of 2022 induction ceremony.
Kelley said that Howard's ability showed the first time he stepped on the field for preseason tryouts. The other players were older and physically more mature, but Howard was able to hang with them. In the time since, he has matured on and off the field.
"Going back, from last year to now, you can see a ton of growth," Kelley said. "Sometimes when you are always around older guys, it rubs off. He carries himself well, too. You can see his maturity too. Going back one year to now you can see ton of growth, on and off the field. Sometimes when youre around older guys like that it rubs off. He carries himself well too. He was our leading rusher as a freshman, but this year he just took over."
The future is bright for Howard. While he has two more seasons of high school football still to play, he already holds several scholarship offers, including from Maryland, Virginia Tech, Wisconsin, Ole Miss, Syracuse and more.
(Photo by Daryl Schultz for MCM)