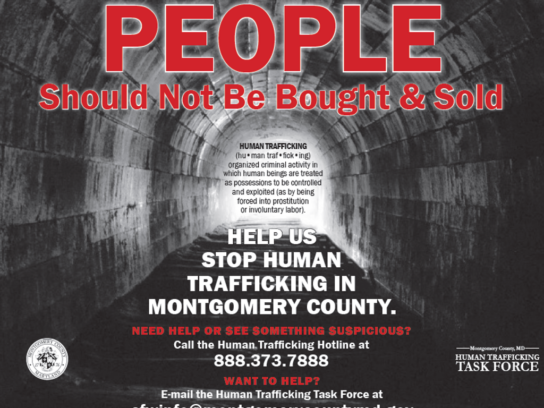 Earlier this month, County Executive Marc Elrich and the Montgomery County Council declared January as Human Trafficking Awareness Month, and activists in Montgomery County have since advocated for residents to do their part.
Human trafficking is a form of modern slavery where people are often either sexually exploited or committed to forced labor. Anyone can be a victim, according to the Lanier Law Firm, who compiled a resource guide on human trafficking, a reported $32 billion industry.
The Polaris Project, a national nonprofit organization that assists victims and tracks trafficking statistics. According to the project, 402 trafficking victims, 94 traffickers, and 45 trafficking businesses have been identified in Maryland as of 2019.
On Dec. 3, 2021, President Biden signed an updated National Action Plan to Combat Human Trafficking. First launched in 2020, the plan aims to strengthen prosecution of traffickers, enhance victim protections, and prevent the crime from occurring within our borders and abroad. The plan includes 60 priority actions to be completed over the next three years.
A virtual two-panel program, entitled Critical Updates: Fight Against Human Trafficking- Federal & International, was held on Jan. 20, hosted by Montgomery County Human Trafficking Prevention Committee, Prince George's County Human Trafficking Task Force, University of Maryland, and UMD's Safe Center. The event featured key note speakers discussing steps being taken to address human trafficking, and how residents can do their part to educate themselves and others.
"COVID-19 has and continues to exacerbate inequality," said Dr. Kari Johnstone, who monitors human trafficking at the U.S. State Department. "Traffickers around the world take advantage of this economic uncertainty."
Reports of children exposed to online sexual exploitation have increased as they spend their school days virtually, often unsupervised, according to Dr. Johnstone.
Dr. Johnstone said racial, gender, and sexual orientation inequity often lead to trafficking, and that there needs to be an increased commitment to reducing these vulnerabilities to exploitation.
Other priorities include encouraging global supply chains to be free of forced labor, which often "misleads customers about the true cost of goods."
Former County Executive Ike Leggett created the Montgomery County Human Trafficking Task Force in 2014. The group meets virtually every third Wednesday of the month.
The members aim to identify and decrease the number of human trafficking cases in and around Montgomery County, while providing services to victims. Organizations can also request speakers to learn more, such as how to identify trafficking victims.
Dr. Johnstone said the best course of action is to "ensure survivors of human trafficking are not only heard, but that their advice is heeded."
While human trafficking remains a significant issue around the world, the federal government, institutions like the University of Maryland, and local groups like the county's Human Trafficking Task Force are persistently providing resources and statistics.
For more information on human trafficking resources and education, visit Montgomery County's Human Trafficking Task Force online.