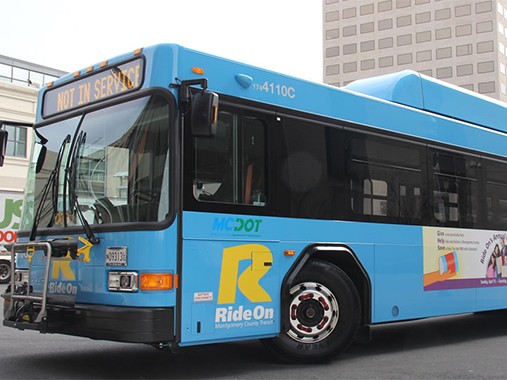 The Transportation Security Administration (TSA) recently extended the face mask requirement on all modes of travel to Jan. 18, 2022.  This includes wearing face masks in airports, and when traveling by commercial aircraft, by buses and by commuter bus and rail systems.
The initial requirement, announced by the TSA on Jan. 31, has been extended twice. Initially, the requirement was set to expire on May 11 but was extended to Sept. 13 and now will continue through Jan. 18, 2022.
In Montgomery County, the requirement covers Ride On buses, Ride On extRa, Flex, Flash, Metrobus, Metrorail, taxis and on-demand car services. The county buses have a supply of face masks for riders who cannot provide their own. Children under the age of 2 years old and individuals with certain disabilities are not required to wear a face mask.
All County operated buses remain free to all passengers through at least the end of September. Fees were suspended during the onset of the pandemic.
Social distancing continues to be strongly recommended on board the buses and trains and at bus stops and shelters. Bus interiors will continue to be cleaned by the County's Department of General Services twice daily with a hospital-grade viral disinfectant. Bus filter and ventilation systems are treated each night with a disinfectant.
Previous posts:
Masks Still Required on Public Transportation Until at Least September
County Providing Face Coverings for Ride On Passengers Who Can't Provide Their Own
Starting Thursday, Ride On Passengers Need to Wear Face Coverings
CDC Encourages Public to Use Cloth Face Coverings to Slow Spread of COVID-19