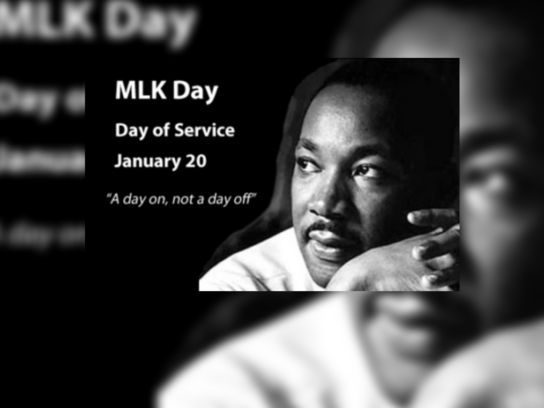 "Life's most persistent and urgent question is: What are you doing for others?" It's one of many poignant and memorable quotes from Dr. Martin Luther King Jr.
The answer to the question, for some, will come this weekend with a variety of volunteer events for people who want to help honor Dr. King's legacy.
Here's a list of volunteer opportunities that are going on. Follow the links to see more details and sign up.
MANNA FOOD DRIVE – Saturday and Sunday (Jan. 18, 19)
Volunteers will help promote the food drive at Giant Grocery Stores and collect food donations from customers. Please Click Here to select a volunteer shift and for more information.
MONTGOMERY PARKS – Saturday through Monday (Jan. 18-20)
Multiple park and stream cleanups and weed warrior projects planned for MLK Weekend & MLK Day. Click here to see the most recent updates to their list of projects. Montgomery Parks says they are adding projects as they come in, so keep checking back to see if there is something that works for your schedule.
SILVER SPRING SITE – Monday (Jan. 20 10 a.m. to 1 p.m.)
Silver Spring Civic Building, 1 Veterans Plaza, Silver Spring
Hosted by Delta Sigma Theta Sorority Inc., Montgomery County Alumnae Chapter
Projects taking place at the Silver Spring site:
Drops For Tots Blood Drive with the Children's National Medical Center dedicated to donors of color to help those battling Sickle Cell disease and other conditions that require unique blood types.
"Teen Suicide Prevention" Doctor & Survivor Panel
Rise Against Hunger Meal Packing of 10,000 meals
The day is going to be full of other volunteer activities; More than 800 volunteers are expected to be at this site from 10:00 a.m. to 1:00 p.m., but people are still welcome to check it out. Click here for more details.
And there are MORE! Check the CALENDAR OF VOLUNTEER OPPORTUNITIES for January to see these opportunities and more happening for that weekend and on MLK Day. 
Related Posts: