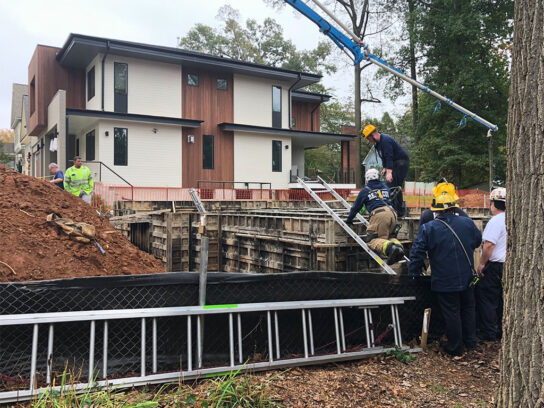 Autoridades del condado de Montgomery informaron el martes en horas de la tarde que un trabajador de construcción, de origen hispano, falleció tras recibir una descarga eléctrica en  Bethesda, Maryland.
El Departamento de Bomberos del condado Montgomery llegó a la zona de la construcción donde trabajaba la víctima en la cuadra 6000 de Wilmett Road, cerca de Ewing Drive,  tras recibir un reporte de que uno de los obreros se había electrocutado.
De acuerdo con el portavoz de los bomberos, Pete Piringer, el trabajador estaba manipulando un camión de cemento, cuando la máquina hizo contacto con los cables eléctricos que estaban enfrente. Según autoridades, el obrero afectado recibió rescate cardiopulmonar y luego fue trasladado a un hospital cercano, donde más tarde falleció.
Otro de los trabajadores fue trasladado a un hospital por observación, ya que se encontraba cerca cuando sucedió el incidente.
UPDATE – Wilmett Rd, 1 injured construction worker was electrocuted & succumbed to his injuries (electrocuted), while the other co-worker is expected to be treated & released, Police will likely conduct a death investigation, MOSH was also notified https://t.co/hbsNxvEGpZ

— Pete Piringer (@mcfrsPIO) October 22, 2019
Piringer tuiteó que la Seguridad y Salud Ocupacional de Maryland (MOSH) ha sido notificada sobre su muerte y que la policía probablemente también llevará a cabo una investigación de muerte.
ICYMI – residential construction mishap in Bethesda Wyngate neighborhood is fatal, 1 worker was shocked/electrocuted when an articulating boom he was operating likely came in contact with overhead powerline near construction site, he succumbed to his injuries & died https://t.co/HKrZheFJlf

— Pete Piringer (@mcfrsPIO) October 22, 2019
Aquí los mensajes a través de Twitter cuando las autoridades atendieron el lugar:
Update – Wilmet Rd, Bethesda, Worker electrocuted, @MCFRS_EMIHS w/ patient, fell into 8 foot foundation of home under construction,, CPR in progress, @mcfrs TRT on scene, power line down pic.twitter.com/LiWYuoTUOg

— Pete Piringer (@mcfrsPIO) October 22, 2019
FYI – IAO Wilmett Rd & Ewing Dr, Bethesda, earlier construction accident knocked out power in area, @PepcoConnect on scene, all @mcfrs have cleared, PEPCO & PD on scene, isolated power out in neighborhood

— Pete Piringer (@mcfrsPIO) October 22, 2019