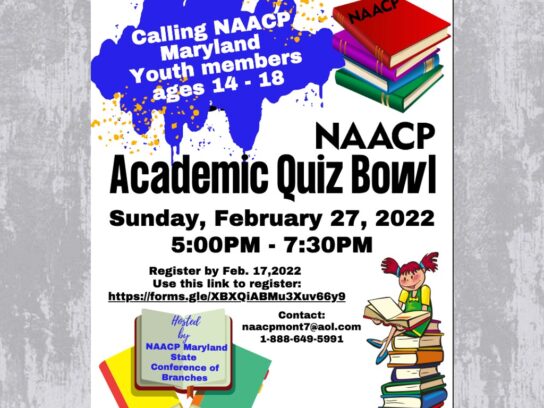 The Maryland State Conference of the NAACP will host Academic Dynamic Quiz Bowl for the first time on Feb. 27.
All Maryland youth councils and branches are invited to organize a team consisting of three to five students for the competition. Contestants must be high school or middle school students, and only one team per branch is allowed.
The teams will be placed into a bracket-style, single elimination competition consisting of three levels, including quarterfinals, semifinals, and finals.
Each student will be asked questions concerning African American history or the history of the NAACP. Each correct answer a team provides will be worth 10 points, and the team with the most points will move on to the net round. The questions will be made available two weeks prior to the competition.
The winning team will receive $250 and a pizza party.
The event will take place over Zoom from 5 p.m. to 7 p.m. Teams must register by Feb. 17.
Questions regarding the competition may be emailed to the NAACP.