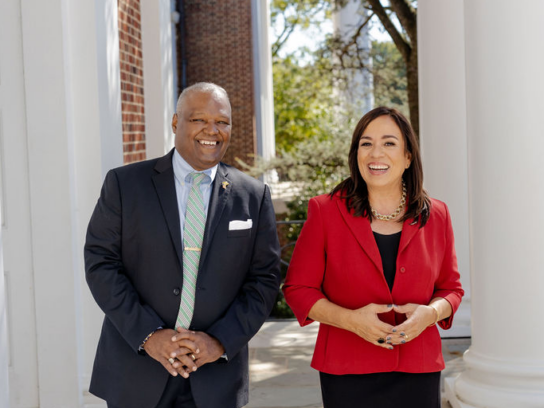 A través de su cuenta de Twitter la actual concejal del condado de Montgomery, Nancy Navarro, anunció que se unió a la campaña de gobernador de Rushern Baker, y que inicia su carrera a la candidatura como vicegobernadora en el estado de Maryland.
Navarro expresa: "Me complace anunciar que me uniré al equipo de Rushern Baker para el gobernador de Maryland, como su compañera de fórmula del vicegobernador. Creemos en la familia, la inclusión y la excelencia. ¡Juntos trabajaremos incansablemente por TODOS los residentes de Maryland!
I am thrilled to announce that I am joining the Rushern Baker for Governor of Maryland team, as his Lt. Governor running mate. We believe in family, inclusion, and excellence. Together we will work tirelessly for ALL Marylanders! #BakerNavarro pic.twitter.com/01YvcXXArX

— Nancy Navarro (@nancy_navarro) October 13, 2021
La concejal Navarro hizo historia al ser la primera mujer latina inmigrante en ser parte del concejo del condado de Montgomery, fue elegida por primera vez para el concejo en 2009, en una elección especial, y dos veces se desempeñó como presidenta. Antes de unirse al concejo sirvió durante cinco años en la junta de educación de las Escuelas Públicas del Condado de Montgomery, el sistema escolar más grande del estado, y en 2011, el presidente Barack Obama la nombró miembro de su Comisión de Excelencia Educativa para los Hispanos.
El ex ejecutivo del condado de Prince George, Rushern Baker, anunció en un comunicado de prensa a la concejal del condado de Montgomery, Nancy Navarro, como su elección para vicegobernadora:
"Estoy increíblemente emocionado y orgulloso de anunciar que Nancy Navarro se une a nuestra campaña como mi compañera de fórmula", dijo Rushern Baker. "A pesar de que hasta ahora nos unimos en esta capacidad, en realidad hemos trabajado juntos durante más de 20 años para cambiar los vecindarios y luchar por las personas que han sido olvidadas y descartadas durante mucho tiempo. Hemos corrido hacia los problemas más difíciles de nuestro estado y hemos logrado hacer cosas, ya sea haciendo crecer nuestra economía y creando empleos, mejorando nuestras escuelas públicas, aumentando el salario mínimo, mejorando el transporte, y haciendo que nuestro gobierno sea más receptivo con la gente. Eso es exactamente lo que haremos como gobernador y vicegobernador".