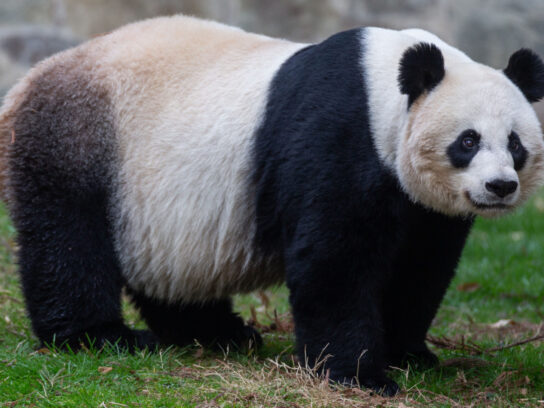 The Smithsonian's National Zoo is anxiously awaiting the birth of a giant panda cub. Friday the Zoo revealed Mei Xiang (may-SHONG) appeared to be pregnant based on the results of an ultrasound.
🐼🤞 Our vets detected tissue consistent with fetal development during giant panda Mei Xiang's ultrasound today. It's too early to tell if the tissue is a viable developing fetus. 🐾 Paws crossed for a healthy cub or cubs. Watch live on the 🖥️ panda cam! https://t.co/hYJCDyVbuB

— National Zoo (@NationalZoo) August 14, 2020
They launched two panda cams and the panda team began watching Mei Xiang around the clock.
Monday, the Zoo shared the ultrasound video and said, "Zoo veterinarians saw some exciting movement during giant panda Mei Xiang's ultrasound. Her fetus was kicking and swimming in the amniotic fluid. Its spine and blood flow were also clearly visible. We hope to have a healthy cub in the coming days!"
https://www.instagram.com/p/CD_q2YSpcsq/?utm_source=ig_web_copy_link
Zoo veterinarians artificially inseminated Mei Xiang March 22 with frozen semen from Tian Tian (tee-YEN tee-YEN). Since July veterinarians have been conducting regular ultrasounds on Mei Xiang looking for signs of pregnancy. A giant panda embryo does not attach to the uterine wall until weeks or months in its development. Once the embryo implants itself to the uterine wall, it grows rapidly. Friday's ultrasound indicated the possibility of fetal tissue.
Mei Xiang turned 22 years old July 22. Tian Tian will turn 23 Aug. 27.
Mei Xiang is an experienced mother, having given birth to three surviving cubs named Tai Shan (tie-SHON), Bao Bao (BOW BOW) and Bei Bei (BAY BAY). Tai Shan was born July 9, 2005, and he now lives in China. Bao Bao was born Aug. 23, 2013, and moved to China in February 2017. Bei Bei was born on Aug. 22, 2015 and moved to China in November 2019. As part of the Zoo's cooperative breeding agreement with the China Wildlife Conservation Association, all cubs born at the Zoo move to China when they are four years old. The Zoo's current cooperative breeding agreement expires in December 2020.
In order to provide quiet for Mei Xiang, the panda house is currently closed.