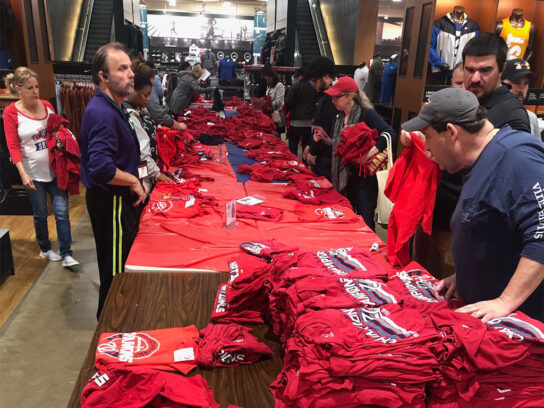 Ten minutes before the clock struck midnight Wednesday, the Washington Nationals clinched the franchise's first ever championship beating the Houston Astros 6-2 in Game 7 of the World Series.
About 40 minutes later—at 12:30 a.m.—Dick's Sporting Goods at Rio Shopping Center in Gaithersburg had opened its doors to customers hungry to buy merchandise saying "World Series Champions." Lines that were amusement-park long, there was a local news crew doing live shots and the merchandise flew off the shelves. This was all happening at a time when most people are usually fast sleep.
History was made. In-person or online, we're ready for you, Washington. #STAYINTHEFIGHT pic.twitter.com/kJCVci1gHy

— DICK'S Sporting Goods (@DICKS) October 31, 2019
Dick's closed at 3 am then re-opened at 7 a.m. on Thursday to more frenzied crowds looking to gobble up what merchandise remained. By 9 a.m.—the normal store opening time—the majority of the merchandise, especially shirts, hats and hoodies, was gone but still some remnants remained.
https://www.instagram.com/p/B4STMT4BH0V/
If you're hoping to get Nats's World Series champs merch at Dick's at Rio, better hurry. They are running out of everything. They wete open from 12:30am-3 am. Really. And re-opened at 7 am today.⁦@mymcmedia⁩ pic.twitter.com/PngkfFis95

— Joe Yasharoff (@JYash) October 31, 2019