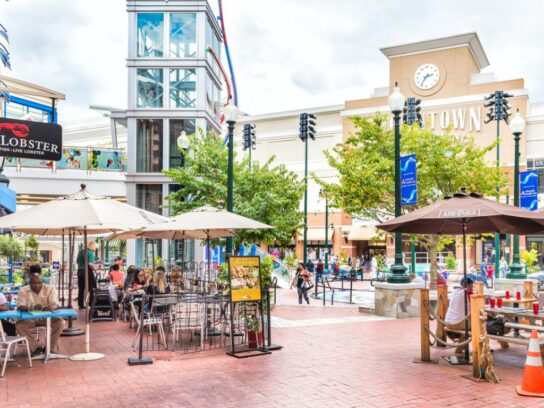 Eligible restaurants and retailers looking for financial assistance during the COVID-19 pandemic can now apply for a grant provided by the Montgomery County Economic Development Corporation (MCEDC).
Announced Tuesday morning, MCEDC says the 3R (Reopen, Relaunch, and Reimagine) Initiative is guided towards businesses that have experienced unanticipated costs, helping with e-commerce solutions, delivery service fees and auto insurance costs related to deliveries and contactless customer services. Recipients can receive up to $5,000, with applications due by Nov. 5.
Benjamin H. Wu, President and CEO of MCEDC, says that the pandemic is forcing small businesses to change operations. "Our local consumer survey underscored a greater need to emphasize on-line shopping, delivery and take-out that will continue until a vaccine is developed."
Any locally-owned Montgomery County restauranteur or retailer with fewer than 100 employees is eligible to apply. However, 10 target corridors will be provided priority. These areas include: Burtonsville/Briggs Chaney, Wheaton/Glenmont, White Oak, Aspen Hill, Germantown, Damascus, Takoma-Langley, Four Corners, Montgomery Hills, and Twinbrook/White Flint.
Additionally, MCEDC will work with applicants to apply and potentially receive an additional $5,000 through the Reopen Montgomery grant program. Combined, these recipients could receive a total of up to $10,000.
Wu says "a restaurant could apply to the 3R Initiative for e-commerce solutions and delivery fees, and we could also connect that same establishment to the Reopen Montgomery reimbursement program to support their air filtration and outdoor seating needs."
Exciting news for #MoCo restaurants & retailers: MCEDC's 3R Initiative Restaurant & Retail grant application is now open! The grant provides up to $5000 to businesses as they prepare for the winter months; priority given to target corridors. Learn more > https://t.co/k0i8U7dXwJ pic.twitter.com/4BSn26DXmF

— MCEDC (@think_moco) October 20, 2020
Funding for the MCEDC grant came from the $1 million 3R Initiative, made up of public and private funding from Montgomery County and PEPCO earlier this year. Additional support for the the initiative came from the Exelon Foundation and the National Alcohol Beverage Control Association.
"We are all working together to provide a coordinated response that can lead us to an economic recovery," Wu explained.
This grant comes as colder weather and increasing COVID-19 cases put pressure on small businesses and their ability to stay open.