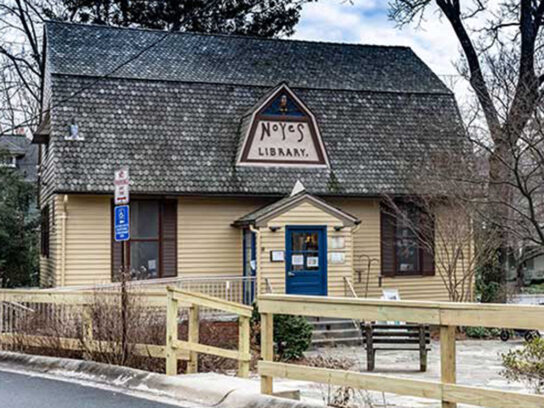 In celebration of Earth Day, families can stroll through Capitol View-Homewood Local Park located at 2929 Edgewood Road in Kensington while following a self-guided adventure with the book, Rainbow Weaver by Linda Elovitz Marshall and illustrated by Elisa Chavarri.
Bilingual signs will be posted from April 17 through May 15. This is the fourth outdoors Noyes StoryWalk and is sponsored by The Noyes Children's Library Foundation and presented with the cooperation of Montgomery Parks and the Oakland Terrace Elementary School PTA. The park is adjacent to Oakland Terrace, an MCPS Spanish-English immersion school.
Rainbow Weaver, which is told in both Spanish and English on each spread in the book, focuses on a young girl who wants to weave like her mother and the women of her Guatemalan village but doesn't have materials. She discovers that she can weave with plastic bags littering the village and then sell her weaving to help pay for her school and school books, according to a news release from the foundation.
Families are encouraged to share their photo of the walk on the Noyes Children's Library Facebook page by posting it to Facebook and tagging the Noyes Children's Library Foundation or post it to Instagram and tag @makemorenoyes.
Families can also tune into free weekly storytimes on Tuesdays presented by the Foundation on Facebook Live. The April 20 at 11 a.m. storytime will feature D.C. actor and Kensington mom Karen Vincent reading Rainbow Weaver.
Noyes Library is closed due to the pandemic.