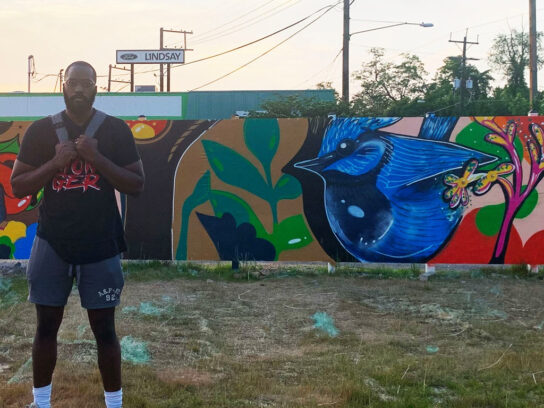 La nueva instalación artística de Wheaton, Connection as a Cornerstone to a Strong Community, está ubicada en la esquina de la University Boulevard y Veirs Mill Road. La instalación, que incluye cuatro carteles  y tres murales originales, se extiende por más de 500 pies de largo y seis pies de alto. Tres artistas de murales: Aundrae Williams, Lelia Quri y Sandra Perez-Ramos, interpretaron el tema utilizando brillantes colores acrílicos, gráficos e imágenes aplicadas directamente a un lienzo de madera contrachapada.
"Mi arte representa dos manos de diferentes colores que muestran la variedad demográfica de las personas que viven en nuestra área", escribió Aundrae Williams en su declaración de artista. "Detrás de cada mano hay un fondo diferente que muestra que todos tenemos diferentes antecedentes que dan forma a nuestras perspectivas de las personas y las cosas que nos rodean", agregó. Lelia Quri dijo que se basó en "la relación de las mujeres con las fuentes de agua y la agricultura a nivel mundial" como inspiración detrás de su trabajo.
Los cuatro artistas de pancartas: Robert Cohen, Felisa Federman, Dinah Myers Schroeder y Naomi Weintraub, completaron su trabajo digitalmente y luego su trabajo original fue escaneado y reproducido en una pancarta de vinilo de alta calidad pegada a una valla perimetral.
El público puede visitar la instalación y conocer más sobre los artistas escaneando los códigos QR ubicados cerca de cada obra.
La instalación de arte fue puesta en marcha por la sociedad Wheaton Gateway para el sitio del proyecto de desarrollo de propiedades residenciales y comerciales de uso mixto conocido como Wheaton Gateway. El proyecto de desarrollo está dirigido por una asociación de The Duffie Companies, Willco y la Comisión de Oportunidades de Vivienda del Condado de Montgomery. Actualmente, el desarrollo se encuentra en las etapas de planificación y aprobación. No se prevé que la construcción comience antes de 2023.