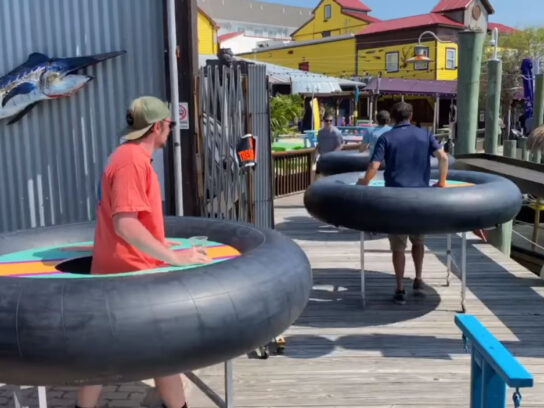 A popular waterfront restaurant and bar in Ocean City went fishing for a way to make social distancing fun. Fish Tales will now use "bumper tables" to promote social distancing. The tables contain inner tubes and wheels. Customers will have the ability to walk around and socialize with others while still practicing social distancing. The restaurant received the tables from Revolution Event Design and Production.
Aside from the new "bumper tables," the restaurant has also begun spreading out their current tables.
"We are prepared for when the Governor gives us the opportunity to open up. We have socially distanced all the tables. As the law allows, we will start serving there and add tables as it becomes a higher density. Right now, we have everything separated in anticipation of being able to open up and have table services here at Fish Tales," owner Shawn Harmon said during a Facebook Live.
In light of current COVID-19 restrictions, Fish Tales continues to provide curbside and carryout service.