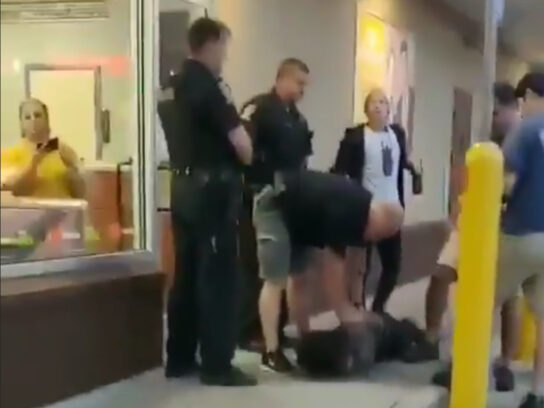 Montgomery County Police Officer Kevin Moris, who was sentenced to two years of supervised probation after he kneed a handcuffed man in the head, was cleared of the misdemeanor assault that a jury had handed down. Moris had requested a hearing for the court to reconsider his sentence, which took place March 3 before Judge Nelson Rupp of Maryland County's Circuit Court.
Moris will retain his position as a sworn officer, according to MCPD spokesperson Sgt. Rebecca Innocenti. "At the conclusion of the criminal trial this matter was referred to the Office of Internal Affairs, consistent with Department policy and Maryland State Law. The result of that investigation was commensurate with the Montgomery County disciplinary process. Internal affairs matters are confidential personnel matters under Maryland State law and therefore no further comment will be made on this matter," she wrote in an email to MCM.
Moris' attorney, Morgan Leigh, did not respond to MCM for information.
On July 3, 2019, Moris held handcuffed Arnaldo Pesoa, of Silver Spring, on a sidewalk with his knee on his head outside a McDonald's in Aspen Hill during a drug-related arrest. Moris was undercover and arresting Pesoa, who was 19 at the time,  on drug-related charges around selling psychedelic mushrooms.
Videos of the incident circulated widely on social media
In Dec. 2019 a jury found Moris guilty of second-degree assault and not guilty of misconduct in office. He was sentenced to 90 days in prison, which was all suspended, and two years of supervised probation.
After the March 3 hearing, The Maryland State's Attorney's Office, which had tried the case, emailed MCM. "The state's attorney's office investigated, charged and obtained a conviction in regards to the Aspen Hill assault by then officer Kevin Moris.  Under Maryland law he is entitled to a reconsideration of his sentence.  That is what transpired yesterday and we will not comment further on this matter," wrote spokesman, Ramon Korionoff.
Meanwhile, Pesoa, who pled guilty, has sued Montgomery County and Moris. The civil case is in discovery now, and no trial date has been set, according to his attorney Timothy Maloney.
Related Post
MCPD Officer Sentenced to Probation for Kneeling on Silver Spring Man's Head in 2019