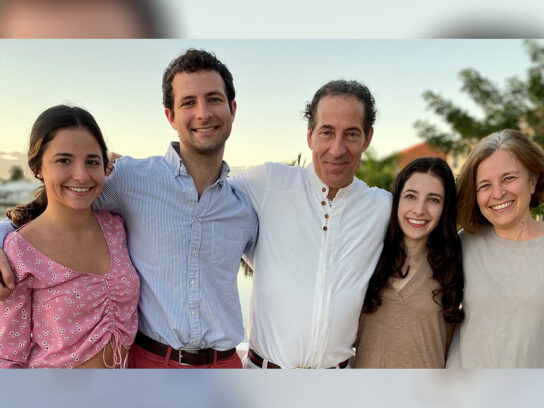 U.S. Rep. Jamie Raskin appeared on CNN's State of the Union Sunday declaring, "I'm not going to lose my son at the end of 2020 and lose my country and my Republic in 2021. It's not going to happen."
Raskin's son, Tommy, who died by suicide on New Year's Eve, was a motivating force in Jamie Raskin's rapid return to work and for his efforts as the lead impeachment manager for the U.S. House of Representatives, he told CNN's Jake Tapper.
"Tommy was a remarkable person. He had overwhelming love for humanity and for our country in his heart and really for all the people of the world," Raskin told the national television audience. The note he left his family asked for forgiveness and added, "Look after each other, the animals and the global poor for me."
Explained Raskin, "I'm a professor of constitutional law but I did it really with my son in my heart and helping lead the way. I feel him in my chest."
Raskin's son, a second-year student at Harvard Law School, once told his father that he wanted to be like activist Jesuit priest Father Daniel Berrigan who spoke of Dorothy Day, an American journalist and political radical. Raskin quoted Berrigan, "I want to show them that the truth is true, and we can live that way."
That thought carried him through the Electoral College certification, writing the two articles of impeachment and speaking out in favor of impeaching Pres. Donald Trump for the second time, he noted.
"This was the most serious presidential crime in the history of the United States of America, the most dangerous crime by a president ever committed against the United States, and there are Republicans who are recognizing it as well as Democrats," he said on CNN.
When asked why he accepted the job of lead impeachment manager, Raskin at first joked, "I don't know if you've ever tried to say no to Speaker [Nancy] Peloski about anything." He then referenced his background as a scholar of the Constitution and his role as a professor of law at American University in Washington, D.C.
As to the events at the U.S. Capitol, Raskin said, it "was an attack on our people. There are thousands of people that work on Capitol Hill, not just members but staff members, and Capitol Hill Police Officers, who were pushed and shoved and punched in the face, pummeled and hit over the head with fire extinguishers."
He urged the Senate to hold "a serious trial where every member of the Senate lives up to his or her Constitutional Oath to render impartial judgment as a juror."
Raskin continued, "This was the most terrible crime ever by a President of the United States against our country, and I want everybody to feel the gravity and the seriousness of those events. At the same time, of course, all of us are deeply invested in President-elect [Joe] Biden and Vice President-elect [Kamala] Harris moving the country forward to repair all of the wreckage and damage of last year, on everything from COVID-19 to the economy."
Listen to Raskin's full interview on CNN below.
I stand firmly by @RepRaskin's stance. He embodies grace, resolve, dignity and strength. His love for his family and our Country is to be admired. #Constitution #Justice #Democracy #Family https://t.co/EhK6T8BWsB

— Nancy Navarro (@nancy_navarro) January 17, 2021