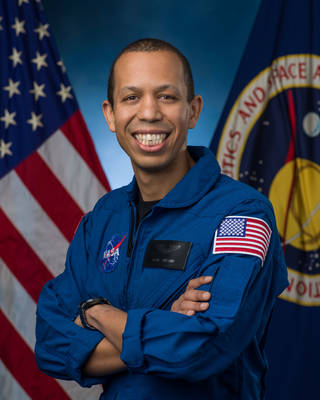 Christopher Williams is still in disbelief that he's going to be an astronaut.
"It's still almost a little bit surreal, something that you've dreamed about your whole life and now getting the opportunity to do, I feel so lucky and honored to have the chance to do this and to be part of the team," he told MyMCM.
NASA announced its latest astronauts on Dec. 6 with Williams and nine other candidates being selected from a field of more than 12,000 applicants, according to a press release from NASA. Since the original Mercury Seven space mission in 1959, there have only been 360 astronauts selected by NASA, including Williams' cohort.
"Becoming an astronaut has been sort of a dream of mine ever since I was a little kid," Williams said. "I have a distinct memory of a little kid version of me drawing a picture of the space shuttle in elementary school, it's something I've always been curious about and has inspired me since I was a kid. This idea that you can use science and technology to really explore and do what we think is impossible."
Growing up in Montgomery County
Williams grew up in Potomac, MD, and graduated from Montgomery Blair High School in 2001. His parents, Roger Williams and Ginger Macomber, still live in Montgomery County. While in high school, Williams worked at the U.S. Naval Research Laboratory in D.C., according to his Astronaut Candidate Profile.
"I owe a lot to Montgomery County for getting me to where I am today," he said. "The school system, going to [Montgomery] Blair and having the incredible opportunities that I had there, that set me up for this. Without that, I wouldn't be where I am today."
Williams credits the resources and mentors he had growing up in the county with encouraging his dream to be a scientist.
"As a kid, it was hard to believe that I could be a scientist, that I could be an engineer. Having mentors that reach[ed] out and help[ed] me along that path was just amazing. In Montgomery County, you have so many resources to try to achieve that," he explained.
After high school, Williams went on to get a bachelor's degree from Stanford University in physics. He took a gap year before getting his Ph.D. from MIT to work at U.S. Naval Research Laboratory and NASA's Goddard Space Flight Center, as well volunteered with the Rockville Volunteer Fire Department.
"Another thing that I thought was pretty neat about Montgomery County is that there are these opportunities to give back in ways that you might not think about," he said. "Being a volunteer EMT or firefighter was not something I had ever really been exposed to…I learned a ton of really interesting skills in addition to being able to give back to the community."
Becoming an Astronaut
Williams originally applied in March of 2020 to become an astronaut, but the process was delayed due to the pandemic. Williams said he traveled to Houston to be interviewed multiple times and got a chance to meet the other interviewees before he was officially selected.
"I was working from home one day, just dropped my daughter off at daycare, and was between two meetings,  and I was getting a call from a Texas number. I said, 'Well, I think the calls are coming soon, so I should probably answer this one.' It was the Chief of the Astronaut Office on the line, inviting me to come to join the team. And I was just absolutely floored."
According to NASA, at the time of his selection as an astronaut candidate, Williams was an assistant professor at Harvard Medical School, where he completed his residency training, and a medical physicist in the Radiation Oncology Department at the Brigham and Women's Hospital, Boston, and Dana-Farber Cancer Institute. He was also the lead physicist for the Institute's MR-guided adaptive radiation therapy program, with research focusing on developing image guidance techniques for cancer treatments.
"I'm really excited to try to bring my background and use that to help further the mission in any way that I can," Williams said. "We're all going to get trained to do what we need to do as astronauts, but we all bring slightly different perspectives and backgrounds to contribute to the team in a way that would be bigger than just taking people from the same cookie-cutter background."
Newly selected astronaut candidates will report for duty in January 2022 and complete two years of initial astronaut training. According to NASA,  training falls into five main categories: "operating and maintaining the International Space Station's complex systems, training for spacewalks, developing complex robotics skills, safely operating a T-38 training jet, and Russian language skills."
Williams hopes to take the skills he learns training to be an astronaut and use them in missions to the International Space Station, and optimistically, the moon.
"I'm really excited to learn of all of those and then to put those into practice," Williams said." I think, hopefully, in my career, we will continue to go to the International Space Station and continue to do awesome research in low Earth orbit. We're also going back to the moon, and we're going back to the moon in a sustainable way. I think it'd be really special to be a part of those missions to go back to the moon and continue to do science and explore there."
Advice for Future Astronauts
William's advice to kids who want to follow in his footsteps is to reach out to their communities and not to be shy about what they are passionate about.
"If you're a kid that's interested in science or being an astronaut, there are going to be people out there that can help you to achieve those dreams. Don't be shy about letting people know what you're passionate and excited about and want to do, he said. "I think Montgomery County was a great place to grow up where I was able to really follow my passion and I hope that other people are able to do that as well."
Williams also assured all of the astronaut ice cream lovers out there that trying authentic space ice cream was on the top of his to-do list once he gets to space.
"As a kid, I tried astronaut ice cream at the Air & Space Museum [in D.C.]. I am hopeful that that on my first mission, I'll get to try some ice cream up there as well, but I'll let you know how it tastes compared to the real thing."