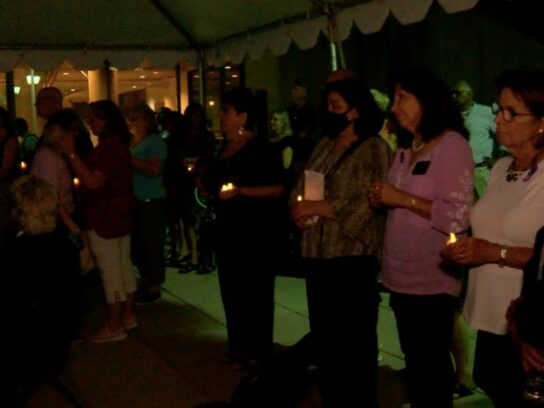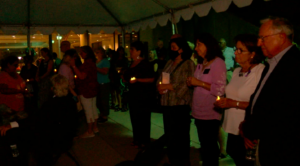 Residents and families who have lost loved ones to substance use joined the sixth annual International Overdose Awareness Day Event and candlelight vigil at the Memorial Plaza in Rockville.
S.O.U.L. (Surviving Our Ultimate Loss) partnered with Montgomery County to host the event Thursday evening.
Maryland ranked fourth in the U.S. for overdose deaths last year, speakers shared. In 2020, there were 108 opioid drug overdose deaths in Montgomery County. Opioid overdose deaths increased 29% in 2020 compared to 2019, according to the county.
Elena Suarez said she lost her daughter, Colette, exactly one year ago on Aug. 26, 2020. She said her daughter endured a trauma in 2017 and was later introduced to crack cocaine while mentally vulnerable. She was a Churchill High School graduate and died of an accidental fentanyl-laced overdose. She was 19 years old.
"She was so funny. I miss her laughter… her silliness, our dancing together."
The county says more than 60% of overdose deaths have been fentanyl-related since 2016.
Suarez said families need better education about substance use disorders so those suffering and their families can have reliable information and make good decisions. She also called for a strong coalition of families for substance use awareness, similar to Mothers Against Drunk Driving (MADD), she urged.
County Health and Human Services Director Dr. Raymond Crowel said anyone who has faced addiction understands how dangerous isolation can be.
"We've known about that for a long time," Crowel said. "The close relation between mental health and substance use disorder is real and known. But COVID[-19] has taken us to some new heights and some new awareness of this, I think."
There is increased anxiety and depression, Crowel said, and it is harder to maintain access to treatment and some have been led to or returned to substance use and self harm.
He said the county regrouped in the face of the pandemic and made efforts to meet resident needs. The Overdose Intervention Team organized community awareness campaigns and developed training series for prescribers of opiate medications. The team continues to provide Narcan training and free Narcan kits. Crowel noted the county opened the Avery Road Treatment Center in Rockville in June. The center offers 64 residential beds for substance use disorder treatment, as well as outpatient treatment services.
In a video message, U.S. Rep. Jamie Raskin said he knows what it is like to suffer the unbelievable loss of a child. His son, Tommy, died by suicide on New Year's Eve last year at 25 years old.
He thanked organizers for hosting the event "to uplift the public health and mental health and particularly the resiliency and the strength of young people, who are struggling to deal with a very tough time."
Raskin said many young people have experienced anxiety and depression during the pandemic. The congressman said the Thomas Bloom Raskin Act, signed into law in April, will help people struggling with mental health issues who may have substance use disorders.  The act directs the state health department to create a program for voluntary mental health services phone calls.
International Overdose Awareness Day is Aug. 31.
6th annual ceremony for International Overdose Awareness Day, hosted by S.O.U.L. (Surviving Our Ultimate Loss) and Montgomery County. @mymcmedia pic.twitter.com/XrFzbtFLXg

— Maryam Shahzad (@maryam_mcm) August 27, 2021