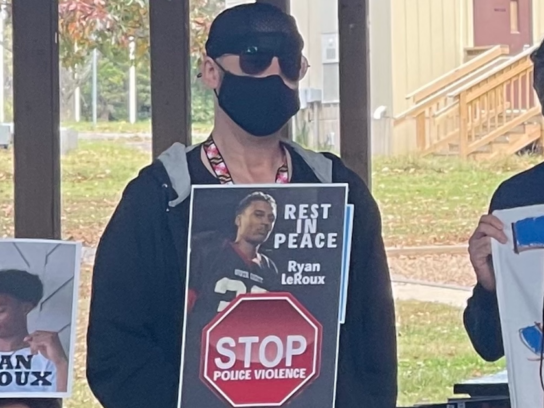 Ryan LeRoux's parents filed a wrongful death lawsuit last week against four Montgomery County police officers. 21-year-old LeRoux was shot and killed by police at a Gaithersburg McDonald's drive-thru last summer.
Rhonda LeRoux and Paul LeRoux filed the lawsuit in a Maryland federal court after a Howard County grand jury concluded that the shooting death of LeRoux was legally justified.
The Howard County State's Attorney's Office reviewed the incident. Per an agreement between the Montgomery County State's Attorney's Office and Howard County State's Attorney's Office, when there is an officer-involved shooting in one county, the other county's office will review it.
On the night of July 16, police officers responded to the McDonalds located on Flower Hill Way in Gaithersburg for a report that LeRoux was in the drive-thru refusing to pay for his food or leave.
The lawsuit says that Defendant Brooks Inman was the first officer to arrive on the scene and that he escalated the situation after he saw a gun in the passenger's seat of LeRoux's car.
Additional police officer arrived at the scene and officers communicated with LeRoux directly on two occasions. A dispatcher from Montgomery County Emergency Communications spoke with LeRoux for five minutes where she asked him to put his hands up and put them out the window. A police sergeant also spoke with LeRoux to convince him to exit his car. Police then requested a crisis negotiator to the scene but LeRoux was shot after officials say he sat up with a gun in his hand.
"Today Ryan Nicolas LeRoux should be alive," the lawsuit says. "He is dead because instead of helping a young African-American male in the midst of a mental health crisis, four Montgomery County Police Department officers shot 23 bullets at him."
Ryan struggled with mental illness much of his life and was diagnosed with Attention Deficit Hyperactivity Disorder (ADHD) and depression at age 8, according to the lawsuit.
"MCPD knew that Ryan needed help — not bullets," the lawsuit says.
Related Posts:
Police Release Body Camera Footage from July 16 Fatal Shooting of Gaithersburg Man 
Police Identify Gaithersburg Resident Fatally Shot by Officers
Police: Montgomery County Officers Shoot, Kill Man Following 'Armed Standoff' at McDonald's