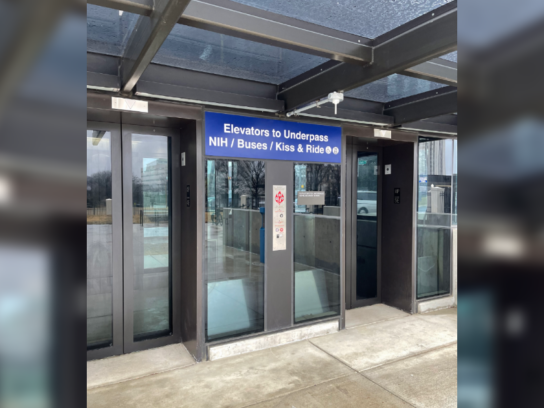 Local elected officials and partners held an event on Friday to announce the completion of the MD 355 Crossing Project in Bethesda. 
The project includes a shallow underpass that provides pedestrians and cyclists with a safe crossing between Walter Reed National Military Medical Center, National Institute of Health (NIH) and Medical Center Metro Station. 
NIH and Walter Reed are the two largest employers in the county and thousands of pedestrians cross every day between both campuses and the metro station. Pre-pandemic data reveals that the Medical Center Metro Station accommodated about 11,000 riders daily and about 7,000 pedestrians crossed MD 355 to access the metro stop, according to the county.
Officials also announced that the pedestrian underpass will be named after the late Phil Alperson, a former Montgomery County Department of Transportation employee. Alperson worked tirelessly to coordinate the MD 355 Crossing Project, the county said. 
Alperson's wife, Jane Alperson, said this recognition is a gift for their family and that her husband would be excited to see the completion of the project.