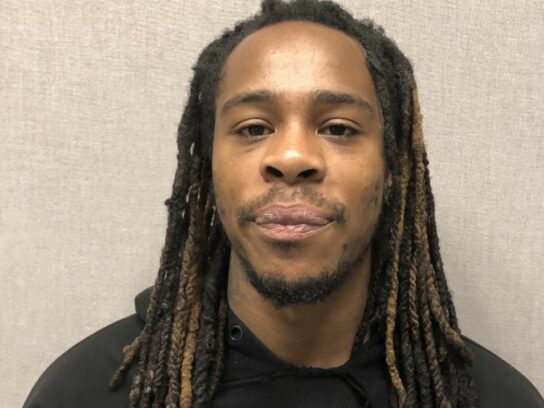 Montgomery County Police (MCPD) charged a Prince George's County man with a July 2 shooting in White Oak that killed 25-year-old Patrick Davion Gafford, who police said met with the suspect to commit a robbery.
David Johnell Eggleston Jr., 25, of Oxon Hill, is charged with first-degree murder, attempted first-degree murder, armed robbery and use of a firearm during the commission of a felony, according to online case records.
According to MCPD, officers responded to a high-rise apartment complex on Oak Leaf Drive around 2 p.m. July 2 for multiple reports of gunshots in the building. Police found Gafford suffering a gunshot wound on one floor and another male victim with multiple gunshot wounds on a different floor. Gafford died at a hospital; the other victim was treated and eventually released, police said.
MCPD said police recovered a handgun near Gafford. During the investigation, they determined that a second handgun was also fired. Detectives learned that a male suspect, identified as Eggleston Jr., met Gafford with the intention to rob the third male. However, Gafford was shot during the robbery and Eggleston Jr. fled.
He was arrested July 27 in Washington, D.C. on the strength of a warrant.
A preliminary hearing in Rockville is scheduled for Aug. 27.
25yo David Eggleston Jr of Oxon Hill was recently charged in the July 2 shooting & robbery that occurred inside an apartment building in White Oak and that resulted in the death of 25-year-old Patrick Davion Gafford.

For additional details, visit: https://t.co/pkiXwYEAhD pic.twitter.com/oLyW74rz90

— Montgomery County Department of Police (@mcpnews) July 29, 2021