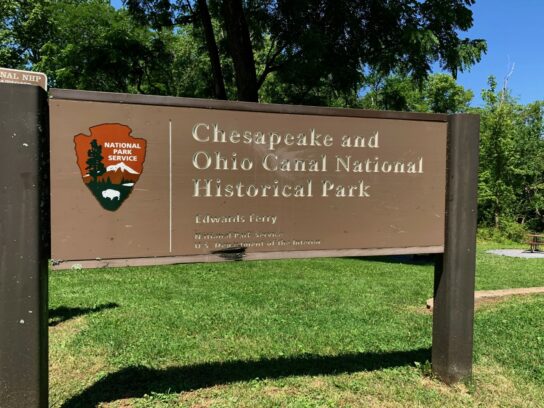 Montgomery County is home to so many places with great historic significance.
The Chesapeake and Ohio (C&O) Canal was built to connect the urban markets of Washington, D.C. and the resources of the Ohio Valley. The 184.5 mile canal runs from Washington, D.C. to Cumberland, Maryland and was under construction from July 4, 1828 until its completion in 1950. The canal was operational from 1831 until 1924. Several years before the canal was finished, the Baltimore & Ohio (B&O) railroad was completed, essentially making the canal obsolete.
The canal was designated a National Historical Park on January 8, 1971. The park includes over 20,000 acres and is used by millions of people every year for hiking, biking and other recreational activities. About 25 miles of the canal has water and 2 of the 74 locks are still in working condition.
Edwards Ferry near Lock 25 is located in western Montgomery County near the Town of Poolesville. In 1863, about a week before the Civil War's Battle of Gettysburg, Edwards Ferry was the site of a major traffic backup of "wagons, artillery and 90,000 men that stretched for more than 20 miles" as the entire Union Army crossed the Potomac River from Virginia into Maryland.
Now Edwards Ferry is a great place for social distance outdoor adventure. There is a boat ramp, the towpath and you can even rent the old lockhouse for the night.
Photos of the park at Edwards Ferry taken by Carolyn Raskauskas:
Correction: The Union Army crossed the Potomac River from Virginia into Maryland, not from Maryland into Virginia as first written.
The following web sites contain information on Edwards Ferry during the Civil War:
Civil War Trails details the Gettysburg Invasion and Retreat.
The National Park Service information sheet titled Lockhouse 25 – Edwards Ferry.