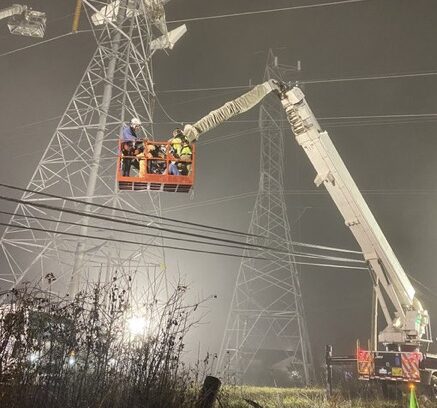 Los dos ocupantes, el piloto y el pasajero, atrapados en la avioneta que se estrelló contra las líneas eléctricas en el área de Montgomery Village el domingo, fueron rescatados y transportados a un centro de traumatología del área, a eso de las 3:30 a.m. del lunes, según Pete Piringer, portavoz de Bomberos y Rescate del Condado de Montgomery.
Aproximadamente las 4 a.m., el avión fue retirado de la torre y colocado en el suelo, según Piringer.
La compañía de servicio eléctrico PEPCO, anunció que a la 1:30 a. m., se restableció el servicio de energía "para todos los clientes que se vieron afectados por el incidente".
ICYMI @MontgomeryCoMD Rescue operations @mcfrs @dcfireems Technical Rescue Team(s) rescue/removed 2 adult occupants trapped on plane that crashed into power lines in Gaithersburg, MD area. Tower & Crane company (contractors) working w/ PEPCO & @mcfrs to get plane down. https://t.co/bgesIAf7uQ pic.twitter.com/sY3O0Eq2tG

— Pete Piringer (@mcfrsPIO) November 28, 2022
Un pequeño avión se estrelló contra las líneas eléctricas en Gaithersburg el domingo alrededor de las 5:30 p.m. El avión quedó atrapado en las líneas eléctricas a 100 pies de altura. Las autoridades investigan la causa del accidente.
.⁦@MDSP⁩ Plane Crash Update: Pilot And Passenger Transported To Area Hospital After Successful Rescue Operation In Montgomery Co. ⁦@MontgomeryCoMD⁩ https://t.co/t3yRh7zfp1

— Pete Piringer (@mcfrsPIO) November 28, 2022
We are pleased to have assisted @MCFRS and other local emergency personnel on the effort to safely rescue the individuals who were stranded in the airplane. We have restored electric service for all customers who were impacted by tonight's incident.

— Pepco (@PepcoConnect) November 28, 2022