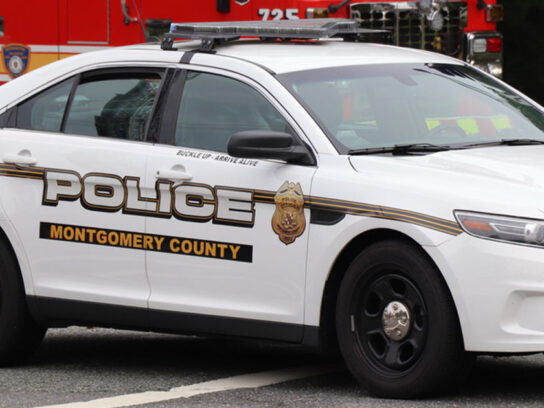 Montgomery County Police are investigating a residential burglary in the 6000 block of Loganwood Drive in Bethesda that occurred April 23.
At 8:10 a.m., officers responded to the residence for a report of a burglary that had just occurred. According to their investigation, two suspects entered the backyard of the home by opening the unlocked wooden gate. They then entered the residence through an unlocked back door.
One suspect was described as a Black man between 20 and 30 years of age, 5-foot, 7-inches tall with a thin build and wearing a royal blue hoodie, royal blue sweatpants with a white stripe down the side and white and blue sneakers.
The other suspect was described by police as a Black female between 20 and 30 years of age, 5-feet, 5-inches tall and wearing a blue North Face jacket, ripped blue jeans and white and blue sneakers with orange shoelaces. She also had a multicolored scarf on her head.
The two suspects were in an older model Toyota Corolla with no front registration plate, a bag covering the driver side rear window and no hubcap on the driver side rear tire.
Anyone with information should call the 2nd District Investigative Section at 240-773- 6710 or 240-773- TIPS, or contact Crime Solvers of Montgomery County toll-free at 1-866-411-TIPS (8477). A reward of up to $10,000 is offered for information that leads to the arrest of the suspect. Callers may remain anonymous.
Detectives Investigate Residential Burglary; Surveillance Video of Suspects Releasedhttps://t.co/68qqMsbs1n#mcpnews #mcpd #investigation pic.twitter.com/aYGcRnxaHb

— Montgomery County Department of Police (@mcpnews) May 19, 2022