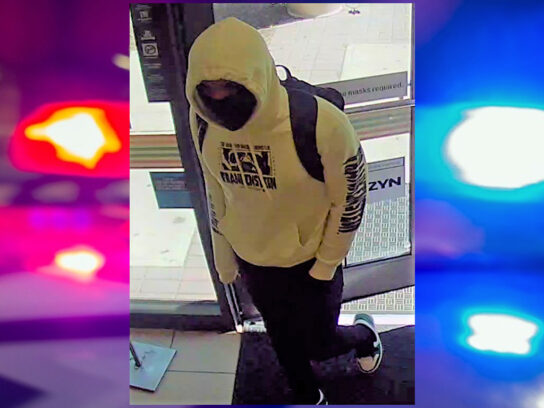 Detectives are investigating the Sept. 30 armed robbery of a 7-Eleven in Gaithersburg, according to a press release from the Montgomery County Police Department (MCPD). Police are requesting the public's help in identifying the male suspect.
According to the press release, officers from MCPD and the Gaithersburg Police Department arrived at the 7-Eleven in the 400 block of Allied Place at approximately 11:40 a.m.
Employees said the suspect entered the store with a handgun concealed in his sweatshirt. He walked over to the counter and pointed the gun at employees, demanding that they open the cash register. Employees complied, and the suspect fled the scene with cash and property in hand.
The suspect is described as a male of unknown race wearing a neon yellow hooded sweatshirt, black skinny pants, white sneakers with green highlights, a black Nike backpack and a black mask.
Detectives urge anyone with information regarding this suspect or this crime to contact the Major Crimes Division at 240-773-5070.