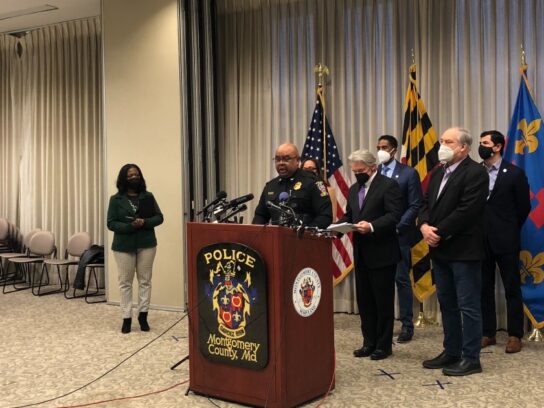 The 17-year-old Magruder High School student charged with shooting another student in a school bathroom had ghost gun parts delivered to his home, Montgomery County Police Department (MCPD) Chief Marcus Jones said during a press conference Monday. 
"Three different parts were literally delivered to his home residence," Jones said at police headquarters in Gaithersburg. He said the suspect purchased the ghost gun himself.
Ghost guns are untraceable because they have no serial number, and can be built through kits.
According to police, Magruder went under full lockdown at 1:05 p.m. last Friday after a 15-year-old male student was shot. At that time, police did not know the identity of the suspected shooter or where he was. Through investigation and tips, Jones said police came to believe it was 17-year-old Steven Alston Jr. They also learned he was not in the classroom he was supposed to be in. 
It took additional time to figure out his location, Jones said. Then, police came up with a strategy to take Alston into custody without creating panic, because there were others around him. 
"We wanted to do this as safely as possible knowing that there were other students and staff inside of that room," Jones said. The suspect was taken into custody without incident shortly after 3 p.m.
When police removed him, they found the frame of a gun on the floor and the slide of the gun in the suspect's backpack. A gun magazine with ammunition was in his sock. The weapon was not operational at that time because it was in different parts.
As of Monday afternoon, the 15-year-old victim was still in critical condition. Jones said police believe other students may have been present in the bathroom when the shooting occurred, who tweeted about it rather than telling school staff or calling 911. 
Previous Post: