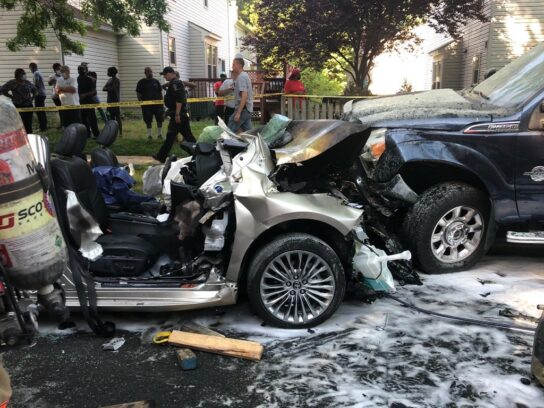 Three people died following a collision in Aspen Hill on Friday, Montgomery County Police (MCPD) said.
Martha Luise Ross, 78, and Joan Williams Jenkins, 91, were pronounced deceased at the scene Friday, MCPD said in a statement. Karl Neil Ross, 86, was taken to a hospital and succumbed to his serious injuries on Sunday, police said. All three lived on the 3200 block of North Leisure World Boulevard.
Police said officers and fire/rescue service (MCFRS) responded to the collision around 5:29 p.m. Officers found a 2018 Toyota Avalon fully engulfed in flames with three occupants inside. MCPD used multiple fire extinguishers while MCFRS responders were on their way, police said.
According to MCPD, Karl Ross was driving the Avalon east on Park Vista Drive toward Hatteras Way, crossed the double yellow line and struck an unoccupied parked vehicle. The car caught fire after the crash, police said. Martha Ross and Jenkins were passengers in the car.
Investigation is ongoing. MCPD asks anyone with relevant information to call the Collision Reconstruction Unit at 240-773-6620.
Update (5/21 collision & vehicle fire on Park Vista Dr in Layhill @MontgomeryCoMD ) @mcpnews reports now TRIPLE FATAL https://t.co/StxnSaaDQJ https://t.co/Ar0xyXJKgU pic.twitter.com/UCFgdU604w

— Pete Piringer (@mcfrsPIO) May 24, 2021