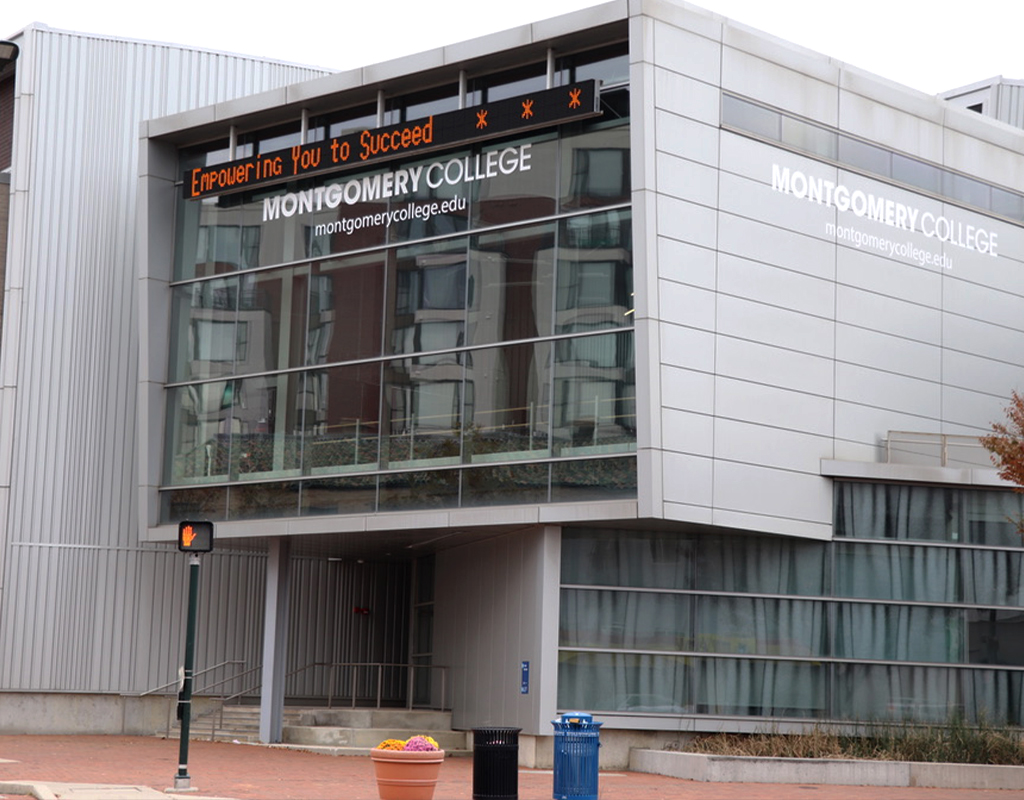 Montgomery College released a statement Tuesday against recent U.S. Immigration and Customs Enforcement (ICE) restrictions for international students taking online classes in the fall due to the coronavirus. ICE announced Monday that international students only taking online classes in the fall will need to leave the country.
"It is disappointing that U.S. Immigration and Customs Enforcement (ICE) has failed to see the true value of international students," said Montgomery College President DeRionne P. Pollard in a statement sent on behalf of the school. "The presence of international students in American classrooms has a long history of building bridges to other nations. In our increasingly interconnected world, students who have spent time abroad often prove to be valuable ambassadors of American democratic principles and intermediaries on trade, international regulations, and global health issues—among other topics."
On Monday, ICE announced changes to their Student and Exchange Visitor Program (SEVP), the most notable of which will deny visas to exchange students attending colleges that have moved fully online amid the pandemic. Non-immigrant F-1 and M-1 students enrolled in such programs will either have to leave the country or switch to a school offering classes in person. Those with fully online course loads but not yet in the country will be prohibited from entering.
"Online learning has proven to be a vibrant alternative to face-to-face education in the midst of a highly contagious pathogen, allowing students to continue with their education while protecting their health," Pollard said.
From the MC News Room: ICE Restrictions on F1 Visa College Students Threatens their Health and Slows Economic Recovery, says @montgomerycoll President @DrPollard_MC https://t.co/3Q9d1YZH21

— Brady Patton (@mc_bradypatton) July 7, 2020
On top of putting students at risk of contagion by forcing them to travel back home, Pollard said the new restrictions are punishing students attempting to take advantage of America's online educational system—"the fastest growing mode of delivery in American higher education."
According to Pollard, Montgomery College enrolls over 550 F-1 students from more than 120 countries each year.
"MC values the cultural and intellectual contributions that these students make to the educational processes at our institution, bringing their knowledge of history, politics, and languages from their home countries," said Pollard
In a recent statement, President Martha E. Pollack announced Cornell's support for the international student community and decision to join Harvard and MIT in their lawsuit against new ICE visa restrictions.https://t.co/85YXvjejqB

— The Cornell Daily Sun (@cornellsun) July 8, 2020
#BREAKING: @UMich is joining the Harvard and MIT lawsuit suing ICE. https://t.co/cFCpK6w9Js

— The Michigan Daily (@michigandaily) July 9, 2020
Many universities across the country have also taken issue with the new restrictions. Harvard and MIT recently sued the Department of Homeland Security and ICE in a joint suit over the rulings—So far, Cornell, Princeton, Penn, Columbia and the University of Michigan have all announced their intent to join the lawsuit as "Amici Curiae" or "friends of the court." Many are hopeful that something might come out of the suit, however, Montgomery County immigration lawyer Silverio Coy spoke with MyMCMedia about why he doesn't think legal action will make a difference.
"My opinion is that it's very unlikely that federal courts will go against the [Trump] administration, because what the administration is doing is enforcing the law…according to the federal law that is already in place," said Coy. "Those students that are facing potential deportation, they should consult an attorney right away before they are placed in deportation proceedings."
While there are many uncertainties, Pollard maintains that Montgomery College is committed to prioritizing all of its students.
"As we work to rebuild our local and national economies, the U.S. cannot afford to think of its interests in isolationist terms," she said. "Instead of deporting foreign students, Montgomery College embraces them, celebrating the diversity they bring to our classrooms and the strengths they bring to our talent pipeline."