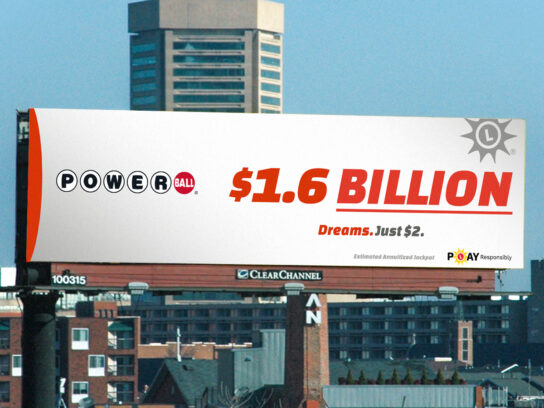 Saturday's Powerball jackpot drawing is now the largest in lottery history. The jackpot has a value of $1.6 billion with a cash value of $782.4 million, according to a press release.
The drawing will be live streamed at Powerball.com and takes place on Saturday at 10:59 p.m.
At $1.6 billion, Saturday's jackpot surpasses the $1.586 billion Powerball prize that was won in January 2016 and split between three winning tickets sold in California, Florida and Tennessee. Powerball's jackpot was last won on Aug. 3 in Pennsylvania making Saturday's the 40th drawing. If nobody wins the jackpot in Saturday's drawing, it will tie the game record for the number of consecutive drawings without a grand prize winner. The longest jackpot run in Powerball history ended on Oct. 4, 2021, when a ticket sold in California won a $699.8 million jackpot on the 41st drawing.
Every drawing produces many winning tickets at the lower prize tiers, which range from $4 to $1 million, and in Maryland there have been 37 winning tickets sold during this jackpot roll that are worth $50,000 or more. Two such prizes from the Nov. 2 drawing were purchased in Montgomery County and remain unclaimed as of Friday morning:
$100,000 — Steve's Beer, Wine & Deli, 12132 Darnestown Road, Gaithersburg
$50,000 — 3 Star Beer & Wine, 18524 Woodfield Road, Gaithersburg
Congratulations to the 37 Maryland winners of $50,000 or more during this current historic jackpot roll! 🎉 Read more about our latest winners: https://t.co/Qf0ZRseGii

Saturday's Powerball jackpot is $1.5 billion! Please play responsibly. pic.twitter.com/cqbn6Ujapb

— Maryland Lottery (@MDLottery) November 3, 2022
Winners have 182 days from the date of the drawing to claim prizes. Prizes larger than $25,000 must be redeemed by mail or at Lottery headquarters in Baltimore. The claims center in Baltimore is open by appointment only.
The odds of winning the jackpot are 1 in 292.2 million.