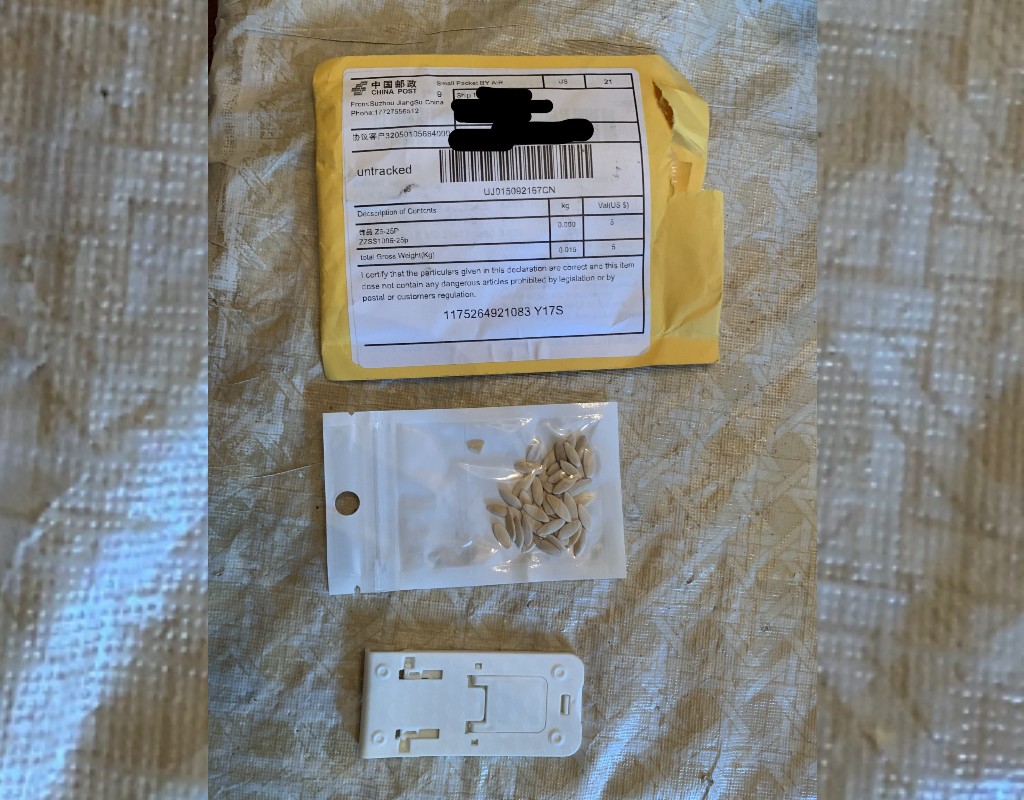 Preste Atención si Recibe Paquetes de Semillas no Solicitadas de China
Varias personas están recibiendo paquetes de China que no ordenaron, según los departamentos estatales de agricultura de los Estados Unidos.
El Departamento de Agricultura de Maryland (MDA) siguió el paso de  varios otros estados, y anunció el lunes que está al tanto de personas que reciben "paquetes de semillas no solicitados de China". El MDA dijo que está trabajando con el Servicio de Inspección de Sanidad Animal y Vegetal del Departamento de Agricultura de los EE.UU. (USDA APHIS).
Los residentes de Maryland que reciben los paquetes de semillas deben informarlo al Departamento de Protección de Plantas y Manejo de Malezas por correo electrónico o por teléfono al 410-841-5920.
MDA is aware that people across the country, including in Maryland, have received unsolicited packages of seeds from China in recent days. MDA is working closely with its partners at @USDA_APHIS to monitor this situation. (1/3) pic.twitter.com/x6GiVyoUj4

— Maryland Agriculture (@MdAgDept) July 27, 2020
En un comunicado, APHIS dijo que está "trabajando en estrecha colaboración con el Departamento de Aduanas y Protección de Fronteras y los departamentos estatales de agricultura para evitar la entrada ilegal de semillas prohibidas y proteger la agricultura del país de las plagas invasoras y las malas hierbas nocivas". Pide a los que reciben paquetes que no usen las semillas.
#APHIS is working closely with @CBP and State Depts of Ag re: unrequested seeds. If received, pls contact State Dept of Ag https://t.co/g0WhR57Wv3 or the #APHIS State Plant Health Office https://t.co/CdHtWghDbC. Keep packaging and do not plant seeds from an unknown origin! pic.twitter.com/LORKeTh4Tc

— USDA APHIS (@USDA_APHIS) July 27, 2020
"No plantar semillas de orígenes desconocidos", dice el comunicado. El MDA y APHIS no pudieron ofrecer un recuento de cuántos residentes de Maryland o del condado de Montgomery han recibido estos paquetes.
Otros estados han publicado declaraciones similares en los últimos días. Virginia y Delaware emitieron declaraciones el viernes y el domingo, respectivamente. Adicionalmente, estados como Washington y Kansas también han dicho que están al tanto de entregas no solicitadas.
Public Asked To Report Receipt of any Unsolicited Packages of Seeds. Learn more: https://t.co/RY9u4nR1QK pic.twitter.com/ZzNaO2ZaYz

— VDACS (@VaAgriculture) July 24, 2020
We have reports of Delawareans receiving seeds from China that they did not order. If you receive them – don't plant them. Report to https://t.co/CcrLlxx4oT#seedsfromchina pic.twitter.com/xuv3KppYp0

— DE Dept. of Ag (@AgricultureDE) July 26, 2020
We have received reports of people receiving seeds from China that they did not order. If you receive them – don't plant them. Report to @USDA_APHIS at https://t.co/0U53rbAiHs pic.twitter.com/Y4yAKv5bk7

— WA St Dept of Agr (@WSDAgov) July 24, 2020
KDA has been notified that Kansas residents have received unsolicited packages containing unknown types of seeds. If you receive a package of this type, please DO NOT plant these seeds. Read the full news release here: https://t.co/fw6XCcbRxZ pic.twitter.com/OrzcIcRI70

— Kansas Dept of Ag (@KansasDeptofAg) July 25, 2020