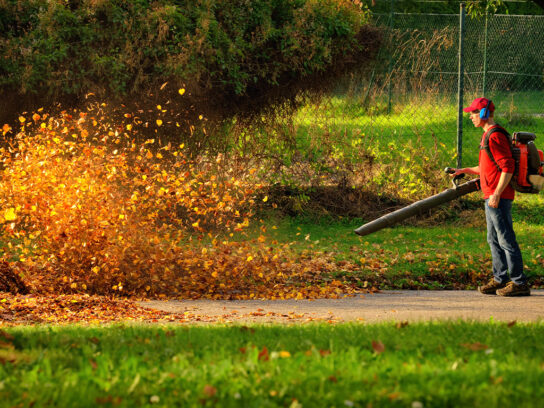 Montgomery County could soon join a growing list of jurisdictions across the nation that are banning gas-powered leaf blowers.
Many local governments have taken aim at gas-powered leaf blowers in recent years due to their environmental impact. Gas-powered leafblowers create carbon dioxide emissions that contribute to the climate crisis.
The leaf blowers can also cause dangerous health defects, ranging from hearing loss to mental illness. In 2021, the Montgomery County Department of Environmental Protection received more than 60 formal complaints resulting from leaf blower noises.
Because of these negative effects, Montgomery County Council President Gabe Albornoz submitted a proposal earlier this year that would ban the sale of gas-powered leaf blowers. The measure came at the request of County Executive Marc Elrich.
If the bill passes, those who continue using gas-powered leaf blowers would face a $500 fine for the first offense. Fines would max out at $1,000 for repeat offenses. The law will take effect six months after its passage to give Montgomery County residents time to adjust their habits.
Last week, the council had a public hearing on the bill that divided county residents. Some Montgomery County residents have been pushing for a ban on gas-powered leaf blowers for years – citing the device's loud noise and harmful impact on the environment. One change.org petition advocating against the gas-powered leaf blowers generated more than 7,000 signatures from community members across the last two years.
But some local landscapers oppose the measure. They believe the ban on gas-powered leaf blowers would harm small businesses, saying the battery or electric blowers perform inefficiently.
In addition to outlawing the sale of gas-powered leaf blowers, the county bill would also create a program that offers rebates to community members who turn in their gas-powered leaf blowers. Officials hope this rebate program will incentivize residents to purchase electric or battery-powered leaf blowers. The bill doesn't specify how much reimbursement would be provided to residents or landscaping companies.
Neighboring Washington, D.C., banned gas-powered leaf blowers in January. Chevy Chase Village and Somerset also implemented local bans this year. More than 170 communities across the county have regulations related to gas-powered leaf blowers, with more than 100 outright banning or limiting their use.
The bill will be reviewed by the council's Transportation and Environment committee in the upcoming weeks. A work session date has not yet been set.