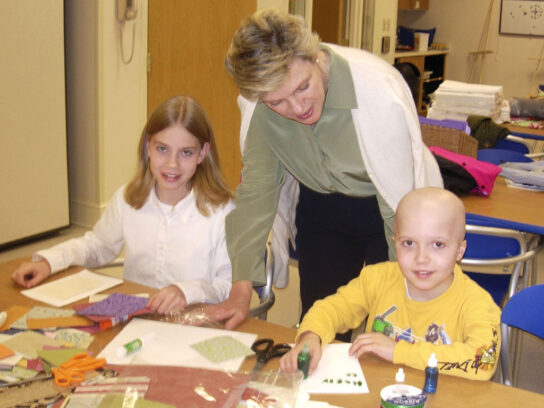 Cokie Roberts' family is inviting the public to participate in celebrating the life of the renowned journalist.
In lieu of flowers, the family has asked for contributions to The Children's Inn at NIH, where Roberts served on the Board of Directors since 1992. She lived nearby in Bethesda.
MyMCMedia spoke to Jennie Lucca, CEO of The Children's Inn at NIH, as well as Lori Wiener a trustee and co-founder at The Inn (and the co-director of the Behavioral Health Core and head of the Psychosocial Support and Research Program at NIH's National Cancer Institute Center for Cancer Research), about why the organization was so important to Roberts.
Here's what they had to say:
Lucca and Wiener said Roberts was a longtime advocate for children and medical research, and she was an active member of the board up until her death on Sept. 17.
Both women shared their final conversation with the esteemed journalist:
Cokie Roberts' Funeral to Be Live-Streamed
Cokie Roberts' family asks the public to join the celebration of her life Friday evening at a reception at the National Press Club (NPC) on the 13th Floor of 529 14th St. NW in Washington, D.C. Between 6 to 8 p.m., attendees can gather in the NPC Ballroom for a reception in Roberts' memory.
The family of legendary ABC News and NPR journalist Cokie Roberts has invited the public to help celebrate her life at a Friday reception and then at a funeral Mass of remembrance on Saturday https://t.co/l2vqdagqpn

— ABC News Politics (@ABCPolitics) September 20, 2019
The family is also inviting the public to attend Roberts' funeral Mass in D.C. at 10 a.m. Saturday at the Cathedral of St. Matthew the Apostle at 1725 Rhode Island Ave. NW.
ABC News, where Roberts worked for decades, will be live streaming the mass on its ABC News Live website.
According to ABC News, Archbishop Wilton Daniel Gregory will be the principal celebrant at the Mass and will give the homily. Additionally, House Speaker Nancy Pelosi (D-Calif.) and Cokie's husband, Steve Roberts, will give eulogies.