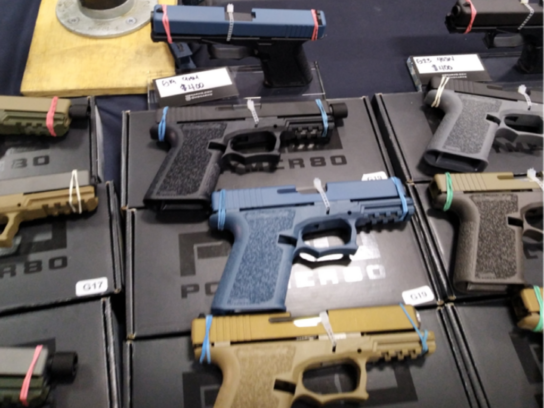 Purchasing, transferring or selling unfinished gun frames or receivers now is illegal in Maryland, effective June 1. By March 1, 2023 no one may posses a ghost gun.
The Maryland General Assembly passed a bill outlawing guns that are purchased in parts and put together by the buyer. These guns come without a serial number and therefore are not traceable by law enforcement.
In April, Governor Larry Hogan opted not to sign the bill into law, but rather let it go into effect without his signature.
"These untraceable firearms have become the weapon of choice for criminals. They are easily purchased over the internet without a background check, making them easily accessible to children, violent felons, domestic abusers, and others who are ineligible to own a firearm," Maryland Attorney General Brian Frosh told My MCM when the state senate adopted the legislation.
The law will make it easier for law enforcement officers to do their job, he said.
This week, Delegate Shelly Hettleman tweeted, "This is real action we've taken in MD to stem the tide of gun violence. We will do more – like making sure kids can't get access to guns."  She added, "Congress can learn from MD's legislative action."
In April of 2021, Montgomery County Council unanimously passed a bill prohibiting access to ghost guns by minors within 100 yards of places of public assembly as well as the making of a ghost gun with a 3D printer when in the presence of a minor.
The goal of that bill was to keep ghost guns out of the hands of minors rather than regulating the purchase of them, which could only be done at the state and federal level.
Ghost guns have been used in recent shootings by young people in Montgomery County. Steven Allston Jr. is accused of purchasing a gun kit on line and then shooting a fellow Magruder High School student in the school bathroom.
Between 2019 and 2021, police in Montgomery County saw a five-fold increase in the use of ghost guns, according to Maryland State's Attorney for Montgomery County John McCarthy. The number of ghost guns seized in the county jumped from 16 to 70 during that two year period.
https://t.co/bXJiyoTE2J pic.twitter.com/NAfp7YE95x

— Brian Frosh, Attorney General of Maryland (@BrianFrosh) May 27, 2022
Related Post